Watch: Rahul Dravid's priceless reply to Gill's 'how does it feel to enter dressing room with your name on it' question
Updated on Jan 25, 2023 11:28 AM IST
The dressing room at Indore's Holkar Stadium is named after Rahul Dravid, and the head coach had an epic response when the same was pointed out by Shubman Gill during a post-match chat.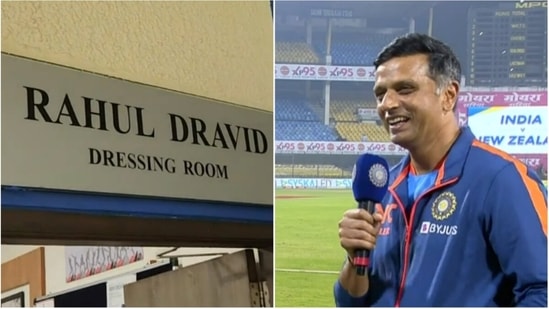 Team India registered a convincing 90-run victory over New Zealand in the third ODI of the series on Tuesday, clinching a 3-0 series win. The hosts posted a mammoth score of 385/9 in fifty overs after brilliant centuries from Rohit Sharma (101) and Shubman Gill (112); the duo stitched a 212-run partnership for the first wicket. In reply, New Zealand could only reach 295 with Devon Conway scoring 135; for India, Shardul Thakur and Kuldeep Yadav picked three wickets each.
Gill was named the player of the series for his phenomenal outing across the three ODIs; in the first match, he scored a brilliant double century (208), following it up with an unbeaten 40 and eventually, another hundred in Indore. With 360 runs in three games, he equalled Pakistan captain Babar Azam for most runs in a three-match bilateral ODI series.
Also read: 'BCCI wants Pakistan to... This isn't something new': PCB chairman's update over Asia Cup 2023 row
Following the win in the third ODI, the BCCI posted a video of Gill and head coach Rahul Dravid engaging in a freewheeling chat about the side's dominant win. The duo share a rich history dating back to 2017, when Dravid coached Gill and the Indian U-19 team to victory in the World Cup in New Zealand. The youngster was the vice-captain of the victorious side. Both have also worked together during their respective stints with India 'A'.
Having seen Gill's cricketing journey closely, Dravid lauded the young India opener on his brilliant performances with the senior team as the duo conversed about Gill's recent outings in ODIs. Towards the end of the video, Gill pointed out a certain gesture made for Dravid at the venue for the third ODI – Holkar Stadium in Indore.
In 2015, the dressing room at the Holkar Stadium in Indore was renamed after the legendary former Indian batter and captain. "How does it feel to enter the dressing room with your name on it?" Gill asked Dravid on bcci.tv.
The Team India head coach let out a laugh and said that he is grateful for it, but also admitted that it was 'embarrassing'.
"It feels good. You're grateful for all the love I've received over the years from so many people. It's a privilege to play this sport in this country. The love you receive is phenomenal and I was lucky to have the talent to play cricket and was able to do it for a long time," Dravid said.
"I also feel a bit embarrassing at times as well. But you do feel very grateful," Dravid further added.