Watch: Rahul Dravid's startling comment on Rohit Sharma, Virat Kohli's T20I future and split captaincy creates confusion
Published on Jan 24, 2023 01:36 PM IST
When Rahul Dravid was asked about split captaincy in Indian cricket, he passed the ball on the selection committee's court.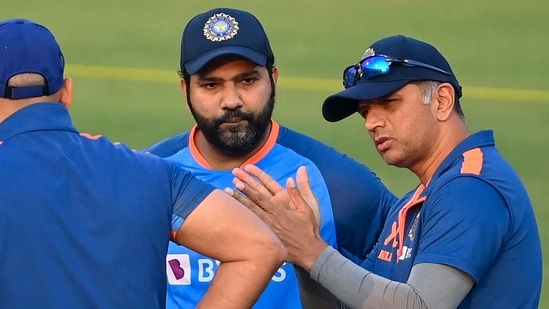 India's T20I team has entered its transitional phase with Hardik Pandya at the forefront, or has it? Regular captain Rohit Sharma, senior pros Virat Kohli and KL Rahul, have not been a part of a single T20I series ever since India's exit from the T20 World Cup in Australia last year. India head coach Rahul Dravid hinted. It was Hardik Pandya at the helm in New Zealand, against Sri Lanka at home and he will be captain in the upcoming three-match T20I series at home against New Zealand too. Three series can be a good sample size to judge the roadmap ahead but India head coach Rahul Dravid is not ready to jump the gun and announce Hardik as the captain for T20Is.
When the former India captain was asked about split captaincy in Indian cricket, he passed the ball on the selection committee's court.
"Not that I am aware of (India adopting split captaincy). That's a question you need to ask the selectors but as of now, I don't think so," Dravid said at the pre-match press conference ahead of the 3rd ODI between India and New Zealand.
For the record, Rohit Sharma has made it clear that he has no plans of quitting T20Is. Shedding more light on the possible plans of the Indian cricket team, Dravid said the idea behind not picking both Rohit and Kohli for these T20Is was to manage their workload and put more focus on ODIs as the 50-over ODI World Cup is slated to be played in India later this year.
"There are certain priorities we need to give to certain white-ball tournaments," Dravid said. "So the priority after last year's T20 World Cup has been these six games and Virat has played all these six games and he will get a bit of a break along with Rohit," Dravid said, referring to the ODIs against Sri Lanka and New Zealand.
India don't have many T20Is this year after the New Zealand series. The focus will shift to the Border-Gavaskar Trophy comprising four Tests against Australia followed by the IPL.
Then there will be two major multi-nation tournaments - Asia Cup and World Cup played in the 50-over format.
Dravid's answers however, kind of contradict what he said during the ODIs against Sri Lanka. He had clearly indicated that India have moved on from old set up and started to look ahead in T20Is keeping next year's World Cup in West Indies in mind.
"For us, obviously, from the last semi-final (in the T20 World Cup) that we played against England, only 3-4 boys are playing in the XI (against Sri Lanka). We are slightly in a different stage of looking at the next cycle of T20, so ours is a slightly younger team and for us to play against the quality of Sri Lanka is a fantastic experience. The good thing is that a lot of focus is on the ODI World Cup and World Test Championship, so the T20s give us the opportunity to try out these guys," he had said.