'We have told the BCCI to follow the laws': CoA chief Vinod Rai on MS Dhoni glove controversy
Updated on Jun 09, 2019 12:25 AM IST
BCCI (Board of Control for Cricket in India) had on Friday wrote to the ICC seeking permission which was subsequently turned down by the top cricketing body.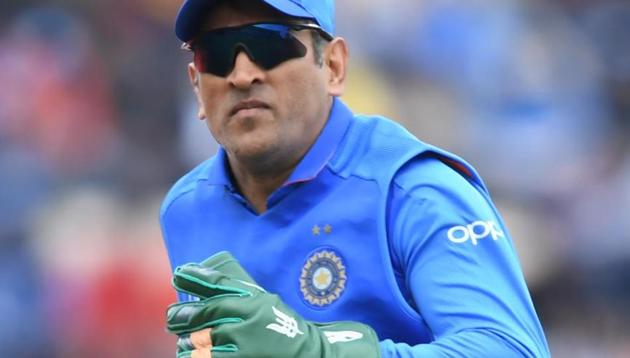 The BCCI has been asked to tell the Indian team management to follow ICC's laws on clothing and equipment after the world body objected and asked MS Dhoni to remove the army insignia from his wicket-keeping gloves.
The Board CEO Rahul Johri, who is already in London, has been asked by the Supreme Court-appointed Committee of Administrators running the BCCI to tell the team management on Saturday to abide by the ICC laws. ((ICC World Cup 2019: Full Coverage))
"We have told the BCCI to follow the laws of the ICC regarding clothing and equipment. Every organisation has its laws. ICC is no different. The CEO Rahul Johri will convey it to the team. Yesterday, we had sent a request to ICC for permission for Dhoni but the ICC didn't allow it. They explained the matter, apprising us in detail about the laws, especially regarding the logos on wicket-keeping gloves," said Vinod Rai, head of the Committee of Administrators.
Also Read: Rohit Sharma reacts to MS Dhoni glove controversy
Apart from disallowing 'personal messages', which he may have done, the India wicketkeeper also breached the law on logos allowed on wicket-keeping gloves.
The BCCI's decision seems to be based on the logic of following a code on uniform.
Even army personnel aren't allowed to wear a logo that is not part of the uniform, even if it is the Tricolour. In fact, members of a regiment are not permitted to wear insignia of another regiment.
Dhoni, even though holding an honorary post in the Territorial Army, is a civilian as per the army rules and is disallowed from wear any logo of the army on his clothes.
Also Read: Gautam Gambhir has his say on MS Dhoni glove controversy
It has also been reported that Dhoni is sporting the insignia of the Parachute Regiment of the Territorial Army, the regiment in which he is an honorary Lieutenant Colonel. This is not the case—the dagger insignia on Dhoni's gloves, called the 'Balidan' (sacrifice) belongs to the Indian Army's Para Special Forces. The Indian Army has not raised an objection, according to Army sources, because the insignia has to be on a maroon background to be considered a complete logo. Also, it is unclear whether the logo on the gloves has the word 'Balidan' inscribed on it, as it is in the Para SF insignia.
Personalise your news feed. Follow trending topics