'We'll love you more than Babar': Kohli receives stunning 'Asia Cup' request during Pakistan vs England Multan Test
Dec 12, 2022 02:45 PM IST
Amid the tension between the two cricket boards over Asia Cup 2023, former India captain Virat Kohli received a special request to come to Pakistan for the tournament.
Despite the political tensions between the two countries which was ended the bilateral ties across formats in cricket, Pakistan cricket fans have always shown deep admiration for Indian cricket and the players. Former India captain Virat Kohli is among those cricketers who have a separate fan base in Pakistan, and two of those were present in the Multan stadium for the 2nd Test between Pakistan and England, with a special request for the India star that immediately went viral.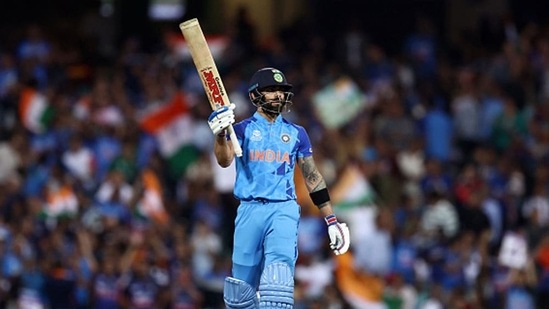 India are yet to decide on whether the team would travel to Pakistan for the Asia Cup next year. BCCI secretary Jay Shah had revealed that the Rohit Sharma-led side won't travel before sparking tension between the two boards by insisting on a change in venue for the Asia Cup to a more neutral one. The statement left PCB furious with Ramiz Raja threatening that Pakistan would pull out of the ODI World Cup, slated to happen in India next year, if BCCI stay firm on their words.
ALSO READ: Virat Kohli's priceless post for Cristiano Ronaldo after Portugal's shock World Cup exit: 'For me, you are the GOAT'
Amid the tension and the uncertainty over Pakistan hosting the Asia Cup, two Pakistan fans held special banners during the Multan Test, requesting Kohli to come to Pakistan for the tournament.
"Hi King Kohli, come and play Asia Cup," read one of the banners, while the other had, "We will love u more than our King Babar," written on it.
PCB chief Ramiz was recently asked during the Multan Test match about India's Asia Cup stance and he fired a freesh salvo at the BCCI although he did mention that he would want both the countries to host each other again.
"I'm all for India-Pakistan contests, I've said this on record," he told Sky Cricket. "I absolutely love the fans, and they like us as well - Pakistan has become a brand in international cricket, the players have got fan following in India, and I know that the second most watched team in India after India is Pakistan, so they take interest in our development.
"We want to go and play, but the fact is it has to be on equal terms. You can't be subservient to a certain cricket board.
"We've survived without India now for a good number of years. Pakistan have looked at the scales of economy in-house and somehow have survived extremely well."