WIPL:
₹

950 crore bonanza for women's cricket

Jan 16, 2023 11:54 PM IST
Viacom 18 bid assures ₹7.09 crore per match and takes valuation for the WIPL, to be launched in March, past all men's T20 leagues other than IPL
The Women's IPL (WIPL) earned a mini bonanza on Monday as it prepares for its launch in March. The Indian cricket board announced Viacom 18 as broadcast partner committing ₹951 crore for 134 matches – ₹7.09 crore per match in the first five years (2023-27).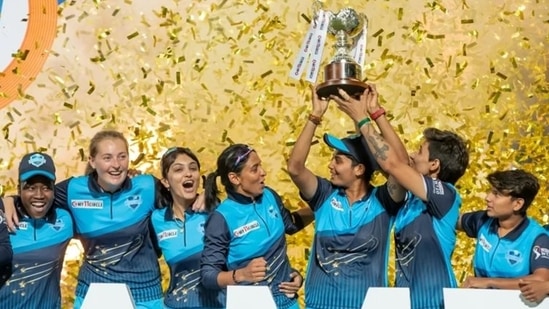 "This is massive for Women's Cricket," BCCI secretary Jay Shah tweeted. "After pay equity, today's bidding for media rights for Women's IPL marks another historic mandate. It's a big and decisive step for empowerment of women's cricket in India, which will ensure participation of women from all ages. A new dawn indeed!"
One should not get drawn into comparisons with IPL, whose media rights for five years (2023-27) were sold for ₹48,390 crore last year. The blockbuster men's league enters its 16th edition while India's women cricketers are yet to become world beaters and only a handful of them are household names.
The impact of these numbers still can be far-reaching. "Words truly cannot describe what this means for a young girl in India, for women's cricket in India, for the women's game, for the sport in general. So happy to see this. This will change the landscape forever," tweeted Lisa Sthalekar, former Australia player and now president of International cricketers' body FICA.
While Cricket Australia introduced the Women's Big Bash League in 2015-16 and The Hundred has seen two seasons in England, media rights for both competitions are packaged with the men's tournaments.
"We did not keep any expectations because we felt that the market was the best place to find value," Arun Dhumal, IPL Chairman, said. "I am glad that the number we have is more than that of any other league."
The WIPL though has become the most valued league after IPL, displacing the new entrants on the franchise circuit, ILT20 in the UAE and South Africa's SA20.
NO COMPETITION FOR VIACOM 18
That's not to say there was fierce bidding for the WIPL rights. Disney Star was the only bidder other than Viacom 18. It was a conservative digital-only bid ( ₹98 crore). Sony-Zee didn't show interest.
Market experts say Viacom 18's bid indicates that it wants to make more inroads into the cricket market after its IPL (digital) and Cricket South Africa rights acquisitions.
With media rights making a major chuck of the central pool, aspiring franchises – they will get 80% share in the first five years – are assured of at least ₹300 crore each in 10 years. At a base level break-even calculation, BCCI can expect to add at least another ₹1,500-2,000 crore from the franchise sale. The tender will open on January 25.
"The media rights partners change every few years but team ownership is for eternity. We are very sure of a very good response in the franchise ownership auction," said Dhumal.
It's learnt that 29 companies, including all the 10 existing IPL franchises, have purchased the tender document, including Avram Glazer, owner of Manchester United.
MITHALI, JHULAN TO PLAY
Recently retired Mithali Raj and Jhulan Goswami are set to return to play in the inaugural WIPL. Both have registered for the player auction slated for early February, officials said.
BCCI plans a team player purse of at least ₹15 crore. This would potentially allow big names like India skipper Harmanpreet Kaur and Smriti Mandhana to become millionaires. Raj and Goswami, besides their experience and mentoring skills, could be used by the franchises for marketing activities. The idea of nominating five icon players before the auction has been shelved.
The 22-match league is expected to kick off in the first week of March. Though the franchises will be given the option of 10 cities to pick their home base, the first edition will be played only in Mumbai and Pune.