Bharals safe in Uttarakhand's Gangotri National Park: WII to NGT
The Blue Sheep or Bharal is safe in the Gangotri National Park, said an affidavit submitted by the Dehradun-based Wildlife Institute of India (WII) before the National Green Tribunal in Delhi on Wednesday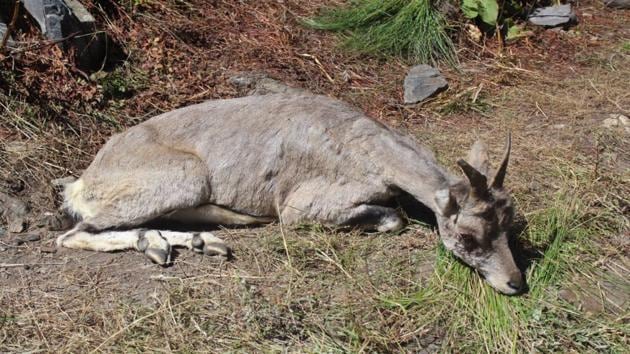 Updated on May 16, 2018 10:21 PM IST
The Blue Sheep or Bharal is safe in the Gangotri National Park, said an affidavit submitted by the Dehradun-based Wildlife Institute of India (WII) before the National Green Tribunal in Delhi on Wednesday. The court will now seek compliance with a three-month ground survey in July.
Earlier, the NGT had roped in Uttarakhand government, ministry of environment, forest and climate change (MoEFCC), National Biodiversity Board, State Biodiversity Board and WII to prepare an action plan to address a mysterious eye infection among the endangered Himalayan blue sheep at the national park.
The affidavit submitted said that despite rigorous checks the forest department staff and experts of the institute found no trace of such an infection in Bharals till date. To ascertain this, they are conducting an extensive survey that began in April and will end in June. The report of the survey will be presented to the tribunal during the next hearing.
"The government will have to submit compliance during the next hearing. According to their affidavit, they have started the survey and will have to submit the report on the observations," Gaurav Kumar Bansal, Delhi-based advocate and the petitioner in the case said.
The experts will complete the first round of the survey and will take up another round in September-November. "We have not reported any infection in the animals so far," an expert at WII said requesting anonymity.
Mountaineer and assistant commandant in Border Security Force (BSF) Loveraj Singh Dharmshaktu had reported the eye infection in Bharals. He reported how the infected animals were unable to walk. The eyeballs too had popped out leading to excessive bleeding. He reported the infection in Kedar Tal area of the park in September last year.
According to the affidavit of chief wildlife warden that cited the WII's findings, the reserve is home to 352 Bharals. The officers, however, reported five individuals infection in September. Meanwhile, the presence of the species is also reported in areas like Rudragaira valley (57), Nelong Valley (249) and Gaumukh Valley including Tapovan (42).
"We have already constituted an 11-member committee and our staff is on the ground. We are taking all possible steps to safeguard the species," DVS Khati, chief wildlife warden said.
The endangered species live on high-altitude mountains mainly in India, Nepal, Tibet, Pakistan and Bhutan. Many Buddhist monasteries protect the bharals found around them.
The animal is categorised as 'Least Concern' by the International Union for Conservation of Nature and Natural Resources. Their population faces the threat of poaching for meat.
Close Story