Uttarakhand departments mark their presence on social media, but fail to engage
Though the departments have created their Facebook pages (in few cases Twitter handles, too), their rate of engagement suggests that not much has been achieved on making dissemination of information easy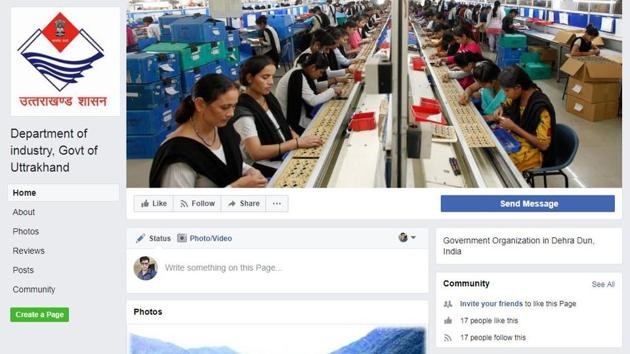 Updated on Mar 11, 2018 10:19 PM IST
When the Narendra Modi-led NDA government came to power at the Centre, one of its thrust areas was to boost social media interaction between government departments and people. This was also seen as part of the 'Digital India' campaign.
Over the years, many state governments followed suit, and soon one could find Facebook pages and Twitter handles of various departments. The aim, apparently, was to make information dissemination easy.
Uttarakhand was no exception to this.
Though the departments have created their Facebook pages (in few cases Twitter handles, too), their rate of engagement suggests that not much has been achieved on making dissemination of information easy.
A majority of the departments hardly have any social media following. Furthermore, they do not create and share first-hand information, but are rather heavily dependent on photographs of reports published in newspapers for their social media content.
Sample these: This reporter was the first and is the only person to like the Facebook page of the directorate of higher education; as few as 17 people have liked the Facebook page of the directorate of industries; the department of culture has 163 likes on its page; 334 people have liked the page of the social welfare department, 566 of the horticulture department, 794 of the state's Sarva Sikhsha Abhiyan, 865 of the rural works department and 892 of the forest department.
These departments' engagement on social media can also be gauzed from the fact that between May 10, 2017 and February 24, 2018, the directorate of higher education did not find any information of public importance worth sharing on its Facebook page.
The Facebook page of the directorate of industries was created in August 2016. But, the department is yet to publish its first post in more than one and a half years. The last post on the Facebook page of the Uttarakhand Rural Road Development Agency was on February 22; for social welfare department it was February 24.
Speaking on this, Ramesh Bhatt, the chief minister's media advisor, said, "Our team mostly focuses on the activities of the chief minister's office. Steps will be taken to train staff of different departments. I am not sure how the department's are handling social media at present."
However, amid this disdain and nonchalance towards public interaction, there are some departments that fare relatively better than others.
The Facebook page of Uttarakhand Tourism regularly shares original content in all formats (text, photographs, videos and links) and the engagement level of people is relatively healthy. The page is liked by 23,576 people.
Similarly, the Facebook page of the department of information and public relations (DIPR) has 1,03,884 likes and regularly publishes updates (primarily about the chief minister's activities). The department of health and family welfare also has 6,894 likes on its Facebook page, but most of its posts are photographs of reports from newspapers.
The social media engagement of Uttarakhand Police is also quite robust. The department has created social media accounts for different wings, along with those for each district.
The published content is original and comes as a mix of text, photographs and videos. These posts are also actively shared and commented by people.
When asked about the government's social media engagement, Dr Pankaj Kumar Pandey, director general, information, said, "We have hired a specialised agency to look after our social media communication. But we mostly handle information related to the chief minister's office. When other departments send us something, we share it too. I can't speak for them on how they manage their social media accounts."
However, communication experts feel that the departments lack creativity in engaging with people on the social media.
"The quality of content shared by government departments in Uttarakhand is very poor. It is neither attractive nor easy to understand," said Shivraj Singh, a Dehradun-based communication expert.
He added that the departments need to train their staff on social media skills.
"The purpose should be to explain government polices to the layperson. The language they are using on social media is very technical and difficult to understand. Same is true for government websites which are rarely updated," he said.
Close Story