Delhi airport becomes 7th busiest in Asia, among top 20 airports of the world
In 2017, the airport handled 63.5 million passengers, beating airports in South Korea, Singapore and Thailand.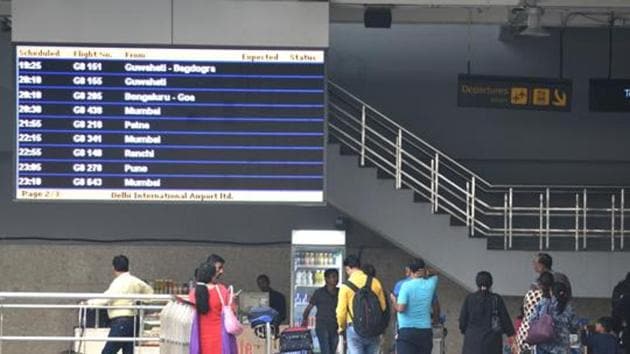 Updated on Mar 01, 2018 07:00 PM IST
For the first time, the Delhi airport breached the 60 million-mark and handled 63.5 million passengers in 2017, making it to the list of the top 20 busiest airports of the world.
The Indira Gandhi International Airport (IGIA) also becomes the seventh busiest in Asia with this milestone, beating airports in South Korea, Singapore and Thailand.
As traffic grows by almost 20%, airport operator Delhi International Airport Limited (DIAL) is changing the master plan to increase the capacity of the terminal and airside.
This year, it is expected to breach the 70-million mark and will operating beyond its capacity. The new ATC tower, to be opened in 2018, and the fourth runway in 2019 would help to reduce air congestion and handle more flights.
DIAL, citing reports of the Airports Council International (ACI), Airports Authority of India (AAI) and International Air transport Association (IATA), said Delhi airport is now the first and only airport of India to enter the top 20 club.
"The addition of new routes in domestic and international sectors by major airlines and a steep rise in the flow of transit traffic has helped Delhi Airport emerge as one of the busiest in Asia and among the top 20 in the world. Airlines see opportunities in Delhi airport as it has a large catchment area, while most other airports have constraints," said I Prabhakara Rao, CEO of DIAL.
Over the last seven years, Delhi airport's traffic has almost doubled and its share of transfer passengers increased from 9.3% in 2010-11 to 20.5% in 2016-17.
Over the last few years, the Delhi airport has emerged as a new aviation hub in Southeast Asia by adding 32 million passengers, 15 international carriers and four domestic carriers and 27 international destinations.
"Today, Delhi airport has emerged as a new aviation hub in Southeast Asia. While in 2010, transit traffic accounted for 2.3% of all traffic in Delhi, it rose to over 20% in 2017. Execution of the expansion works under the proposed master plan will enhance the facilities, enabling air traffic to grow at a faster pace," Rao added.
The airport has a major market share of air traffic volume to Middle East, European, Asian and American regions.
But in the coming years, infrastructure needs to be improved to manage the crowd. DIAL has already prepared a master plan. To expand Terminal 1, it will shift two domestic low-cost carriers to Terminal 2 by mid-March.
Since T1 is operating beyond its capacity, the expansion will begin from there and cover the airside, terminal building and the city side. The master plan will be implemented in three modular phases — phase 3A (2018-21), 3B (2021-25) and Phase 4 (2026 onwards).
The departure Terminal, T1D and arriving Terminal, T1 C will be merged into one and expanded to accommodate 40 million passengers per annum. The modified T1 will also have aerobridge operations with 22 aerobridges.
The airport, which already has three runways, will also become the first in the country to have a fourth runway with construction likely to begin this year. Airport officials are expecting to commission the fourth runway by 2019, which will take the per hour capacity of Delhi airport from 75 flights to 96.
Close Story
Personalise your news feed. Follow trending topics