Delhi pollution level alarming post Diwali, people complain of 'zero visibility'
A blanket of haze covered Delhi on Monday morning. People posted photographs of the smog-covered road with the accompanying texts complaining of "zero visibility".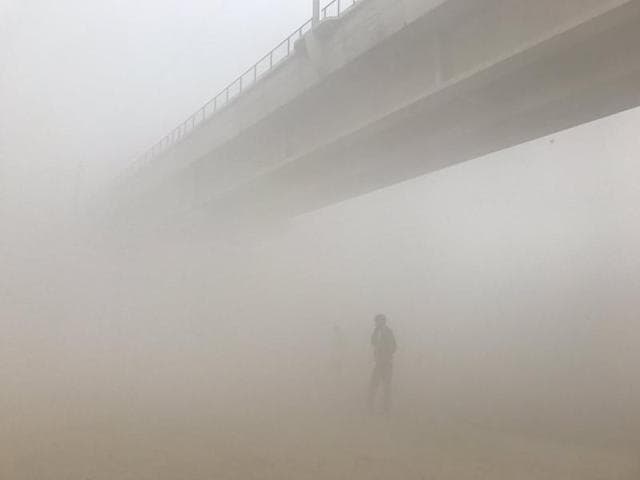 Updated on Oct 31, 2016 02:18 PM IST
A blanket of haze and smog enveloped Delhi on Monday morning after night of Diwali revelry and firecracker burning pushed the city's air quality to alarming toxic highs.
People commuting to their offices early morning posted photographs of smog-covered lights with accompanying texts complaining of "zero visibility". Many said the air smelt of charred firecrackers and that it was difficult to breathe.
Pollution peaks in the city during Diwali as a hazardous mix of noxious gases and respirable pollutants hang very close to the surface due to low temperature and near-stagnant wind movement.
At 7:23am, HT's air quality index showed a reading of a severe 447. Air pollution level is classified as severe if it is between 401 and 500. At Mandir Marg in south Delhi, the index read 492 and it was again 500 at Shadipur in west Delhi.
Read: 'Yay, we're beating Beijing': Delhi residents tweet their air pollution woes
China declares a 'red alert' if air quality plunges to this level. If the alarming pollution levels continue for three consecutive days, China facilitates measures such as shutting down schools and offices, closing down industries and power plants, and road rationing of vehicles.
This came after alarm bells were set off on Sunday evening as air quality in the Capital deteriorated alarmingly on Diwali night. Data from the Hindustan Times air quality map showed that the air quality index had peaked -- touching the maximum limit of 500 -- in almost all monitoring spots in the city.
Read: Delhi smothered by smog but where's the city government?
The Delhi Pollution Control Committee's real-time ambient air quality data said the PM10 readings went up by over 42 times on Sunday from the national ambiance air quality standard at RK Puram. At 10.55pm, PM10 was recorded at 4,273 µg/m³. PM2.5 also touched an alarming high at 748µg/m³ at 2.30am.
Particulate matters (PM) are tiny particles in the air that cause visibility problems and health hazards.
The permissible level of PM 2.5 is 60µg/m³ while PM10 is 100 µg/m³. Levels beyond that can cause harm to the respiratory system as the ultra fine particulates can embed themselves deep into the lungs and enter the bloodstream.
"Pollution level kaafi sheheron mein high hai. Delhi ke logon ka dhanyavad. Iss baar patakhe kum the...(Pollution level is high in many cities. Thanks to the people of Delhi. Firecrackers were fewer this year," Delhi health minister Satyendra Jain told ANI.
But people could not stop talking about the 'airpocalypse' on Twitter.
The Centre's System of Air Quality and Weather Forecasting and Research (SAFAR) said pollution during this year's Diwali was expected to be worse than 2014 and 2015 due to a combination of adverse meteorogical factors such as slow wind speed and moisture in the air, a major hindrance in the dispersion of suspended pollutants.
The city of about 20 million, which ranks among the world's top cities with foul air on a World Health Organisation list, has been struggling to clean its air that contains a toxic cocktail of dust, smoke and gases from vehicle, factory exhausts and coal-fired power stations.
The condition worsens every autumn and winter as the city, buffeted by farmers burning crop stalks in neighbouring states and atmospheric changes, records higher levels of air pollution.
Close Story
Personalise your news feed. Follow trending topics