Education of women is key
Jan 24, 2023 07:11 PM IST
A new petition in the SC shows why authorities must ensure that hijab rows don't hurt learning
A decision by a group of students from Karnataka to approach the Supreme Court has, once again, underlined the appalling cost exacted by the protracted row over hijabs on the lives and educational pursuits of thousands of women. The students approached the top court on Monday, seeking a directive to government institutions in Karnataka to allow them to appear for examinations wearing the hijab, which has emerged as a lightning rod in communally sensitive districts of the state, irreversibly hobbling the education of women. Since the Karnataka high court upheld the state government's order on uniforms in colleges last year, reports have indicated that many women have pulled out of state-run institutions and attempted to continue their education in privately-run colleges, where the restrictions on headscarves do not apply. But as the lawyers of the women petitioners told the top court, examinations can be conducted only in government colleges, where hijab-clad women have faced stiff resistance time and again while trying to gain access to the campus.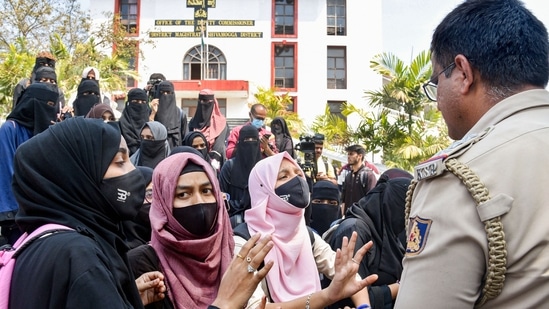 Chief Justice of India (CJI) Dhananjaya Y Chandrachud indicated that he will consider setting up a three-judge bench to take up the matter, which has assumed urgency given that state-level examinations are scheduled to begin in the first week of February. While this is welcome, any relief in this regard is only likely to be temporary, given that the legal status of the case is still in limbo after a two-judge bench of the top court delivered a split verdict last year, and a new bench is yet to be announced.
In the long-term, though, the authorities have to ensure that the futures of young women in Karnataka, and indeed, across India, are not held hostage by competing political and religious interests. While the legality of the restrictions on the headscarf can only be adjudicated by the apex court, the government needs to ensure that fringe elements don't disturb communal amity or interrupt the education of young women, who battle strictures at home and outside in the pursuit of their dreams. Data shows that as a demographic group, Muslim women trail most other communities in educational standards; this gap must be bridged, not allowed to widen. Reports in this newspaper have noted how women have to deftly negotiate patriarchal and faith-based customs, and orthodox notions of women's honour, every day. It is the government's responsibility to ease their struggle.
Enjoy unlimited digital access with HT Premium
Subscribe Now to continue reading