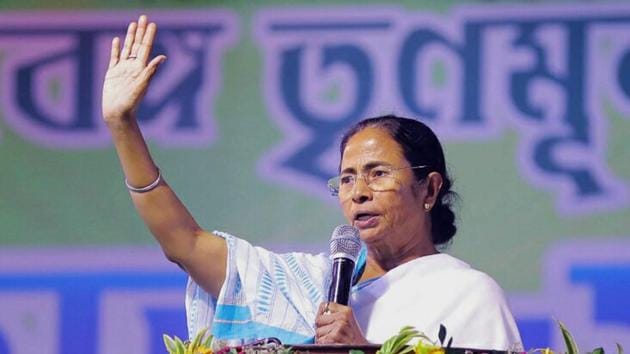 The BJP-TMC competitive communalism can't be the way forward in Bengal
The Trinamool Congress seems to have plunged into a dangerous round of competitive communalism, taking on the saffron forces which have been gaining ground in the state
UPDATED ON APR 11, 2018 05:29 PM IST
Consistency has never been West Bengal chief minister Mamata Banerjee's strong point. Her reactive quicksilver politics has led to political opponents describing her as an opportunist who is willing to throw all ideology to the winds if it means garnering popular support. But after having espoused the cause of the minorities for years – they form about 27% of Bengal's 9.13 crore population – Ms Banerjee seems to have plunged into a dangerous round of competitive communalism, taking on the saffron forces which have been gaining ground in the state, albeit slowly, in recent times. The BJP, which has been a fringe force, is edging forward in vote share. That explains why these local elections have been so violent and keenly fought.
The communal politics we see today actually began in 2017, when the Sangh Parivar enthusiastically organised Ram Navami processions in Bengal with participants brandishing weapons — most visibly in the chief minister's constituency of Bhawanipore in south Kolkata. The success of these events egged on other outfits (mainly the Vishva Hindu Parishad and Bajrang Dal) to go for a bigger exercise this year.
Ms Banerjee, canny politician that she is, then decided to match the opposition with Ram Navami and Hanuman Jayanti celebrations of her own. In different districts and Kolkata, ruling party leaders and ministers organised religious processions, but without the weapons. Last year, she told the police to beat up anyone who created mischief. But this year she said old Ram Navami processions that have been carrying weapons for years will be exempt from police action. The message could not have been clearer. Over the past few weeks, she also stopped criticising the BJP for importing Hindutva that is distinctly different from the liberal Hindu culture of Bengal. The art of wooing the majority community started aggressively in January when the Trinamool district units in Birbhum and West Midnapore organised a conference of Hindu priests. The political element was party leaders telling the priests that Bengalis did not need learn Hinduism from anyone. Ms Banerjee has her political compulsions. She has to protect her turf against the saffron onslaught. She needs to focus her energies on pulling together an anti-BJP front before the 2019 elections. She knows that in order to compensate for anti-incumbency in other states, the BJP will focus its resources and energy in Bengal that offers 42 Lok Sabha seats. But her response may drown Bengal in a communal cauldron. If the Ram Navami clashes in Raniganj and Asansol towns are any indication, competitive communalism may not be a constructive way forward for a party that claims that its main focus is development.
Close