CBSE Class 12 term 2 Hindi exam was easy compared to term 1 paper, say students
CBSE conducted Class 12 Hindi Elective and Core exams on Monday, April 2.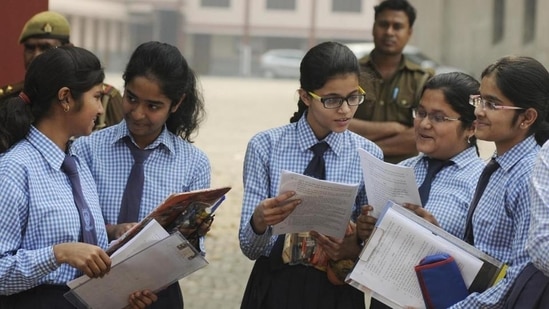 Updated on May 02, 2022 04:07 PM IST
The CBSE conducted the Class 12 Hindi examination on Monday. Here is what students said after the exams:
Lucknow
Students in Lucknow found CBSE class 12 Hindi question paper difficulty level from easy to moderate.
Ayush Pratap Singh, a class 12 student of LPS South City said term 2 paper of Hindi was quite easy as compared to Term 1 . Student who had thoroughly revised the NCERT would have found it easy to solve it, he said.
Sameeksha Sood, a class 12 student of LP.S South City said, "The difficulty level of the exam was moderate. Choices were provided in both the sections and everything was according to CBSE Syllabus.
Diksha Singh, a class 12, LPS South City said, "Paper was divided into two separate sections.
"Section A was quite easy and had topics related to day to day life whereas
Section B was related to literature portion and had some twisted questions but everything was from within the syllabus provided by CBSE," she said.
Priya Shukla, a teacher of Hindi, LPS South City said, "Question Paper was quite good and Simple. Difficulty level easy to moderate. Purely NCERT based. No tricky questions as such except Question No. 5 in which students are asked about Rubaiya, whereas the lines are of Ghazal" that could have been little bit puzzling for the students to write about.
Question paper was entirely based on the syllabus provided by CBSE. Format of Question Paper was exactly same as that of the sample paper released from the end of the CBSE, the teacher said.
Prayagraj
CBSE Class 12 term 2 Hindi paper was easy compared to the term 1 exam, students said after the exam. The paper was conducted from 10:30 am to 12:30 pm on May 2. LIVE Updates.
Anjali Kushwaha, a class 12 students of LDC Public School, Soraon in Prayagraj found the question paper to be easy as compared to term-1 exam.
"I don't think a student who had revised the syllabus would have found it tough. It was a little lengthy but still quite easy," she said.
Her classmate Priyal Patel also found the question paper easy. The 40 mark question paper had two sections and we had to answer seven questions. None of them were tough or difficult to answer," he claimed.
Hindi subject teacher of Ganga Gurukulam School, Phaphamau in Prayagraj Anjana Verma said that most of her students seemed happy with the question paper as it was all from within the syllabus and in line with the expectations of the students.
"Overall a well balanced question paper that did not pose any problem for most students," she said.
(With inputs from Rajeev Mullick in Lucknow and K Sandeep Kumar in Prayagraj)
Topics
Close Story
Personalise your news feed. Follow trending topics