Exams on an app: Colleges are taking semester tests mobile
Hindustan Times |
Gayatri Belpathak
Aug 31, 2017 09:25 PM IST
Results are instant, as is feedback. Assignments, lecture notes, notices and attendance records are virtual too.
Nineteen-year-old Deep Parekh, a third-year BCom student at K J Somaiya college, gave his last semester exams on Offee, the official mobile app of his college. The exam consisted of multiple choice questions. "It was very quick; pen and paper can slow you down," he says.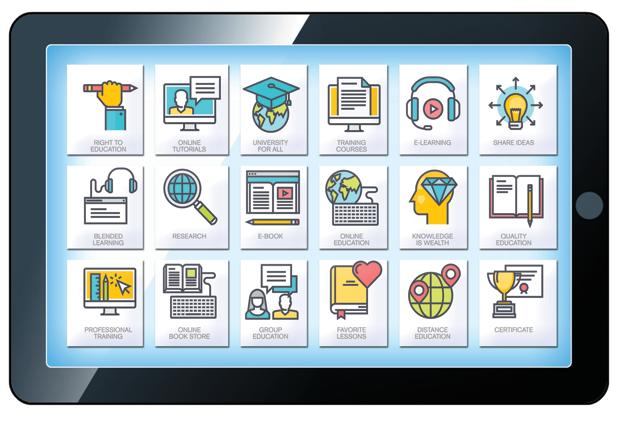 The exam option of the app was introduced in March and is compulsory for all students. A total of 3,000 students at the college for Arts and Commerce used it in the last term.
"We decided on an app because it is a more efficient way to administer exams and score papers, both from the teachers' and students' perspective," says Rajan Welukar, provost at Somaiya Vidyavihar. "Students get their scores almost immediately after the exam. The app is also equipped with features that prevent plagiarism and cheating."
The app also analyses the class score to identify what areas seem to have been most confusing or misunderstood, and this feedback is used by teachers back in the classroom.
"Colleges and classes are also using it to create a virtual library of e-books, hold video-based lectures after hours and share notes with and among students," says Amit Shah, a former student of Somaiya Vidyavihar, who is now an app developer and built Offee.
Urmi Dhanak, 19, uses the app mainly to refer to lecture notes. "In case I have missed a class or need to understand a topic better, I refer to the app. It can even be accessed offline," she adds.
IT'S TIME
As class sizes grow, this is the only sustainable way forward, says Kameshwari Chebrolu of the Department of Computer Science and Engineering (CSE) of IIT-Bombay. "Technology is going to play an increasingly important role to improve learning and teaching," she adds. "Smartphones are widespread, powerful and can realise many new ideas in the education space."
IIT-B uses an app called SAFE (Smart Authenticated Fast Exams), developed in-house by faculty and students.
"The app enables 'cheating-free', 'auto-graded' exams via student smartphones in classroom settings," says Bhaskaran Raman, professor at the CSE department.
Nihal Kumar Singh, 19, a third year undergraduate student from the Civil Engineering Department, has used the SAFE app twice, and appreciates the transparency.
"The app is pretty intuitive and has a clean design which makes the usage simple and easy," says Singh. "My favourite part is that the invigilator's interface shows a complete log of all activity on every connected device in real time, allowing the invigilator to catch hold of a student trying to make a call or switch apps. After the quiz, the statistics are instantly available, which makes it so easy to point out common mistakes or where most students went wrong."
Here too, the app offers feedback on which mistakes were most common and which concepts were most misunderstood.
"The app is extremely flexible. It can be used for a 5-minute class test or a 90-minute exam," says Raman. "In the current semester, SAFE is being used across five courses for a total of over 750 students. We're looking to scale up further," adds Bhaskaran.
Use of SAFE is dependent on the instructor and the class dynamic, so there's no central push to get all IITB students on the app.
MOBILITY MATTERS
At GLA University in Mathura, Uttar Pradesh, the official mobile app – Glads – allows students to take exams, submit assignments and access other educational content.
"They can also access their attendance records, see all notifications and university-related information and view academic performance in real time," says university treasurer Neeraj Agarwal. "Students can also communicate with each other, faculty and management."
OP Jindal Global University is deploying a mobile app, CollPoll, that will allow students and faculty can raise a request for IT or hostel support. "Students will be able to see their results and download transcripts on the app shortly too," says chief innovation officer Anirudh C Phadke.
CONNECTING THE DOTS
"When we look at how students interact and engage with their faculties and courses, it's easy to see the shift away from textbooks and "chalk and talk," says Nitin Putcha, CEO at the ITM Group of Institutions, which has been using shared online docs for assignments and quizzes for three years. "I believe the paper/pencil final examination is an obsolete assessment tool. Certainly, mobile apps can be used for assessment as long as institutes move away from the old mindset, into continuous assessment practices."
At Manipal University, a customised tab even allows students to 'write' their answer paper — complete with redo, undo, cut, copy and rough note features. The answersheets are then sent to the cloud, reducing paperwork and making assessment and even archiving much easier.
"We have about 20 institutions and over 33,000 students. Between regular assignments and sessional or end-semester exams, there was a lot of paper being used and it was an uphill task for faculty and administrators to deal with the voluminous answer scripts," says Manipal University registrar Narayana Sabhahit. "Now, we have a dedicated platform to track all our students' submissions."
One drawback, of course, is that such systems are necessarily based on a BYOD (bring your own device) model and works only in wi-fi or intranet-enabled institutes — which means it is not scalable across large parts of India.