Haryana Board Class 10 results: 4 students are joint toppers, pass percentage goes up but dismal show continues
May 17, 2019 05:52 PM IST
Haryana board Class 10 results were announced by the Board of School Education Haryana (BSEH) on Friday, in which 57.39% students passed.
Four students topped the Haryana Board Class 10 examination, the results of which were declared by Board of School Education Haryana (BSEH) on Friday. Himanshu of Newton High School, Jhajjar, Sanju of Ashadeep Adarsh School, Panipat, Isha Devi of Shiv Shiksha Niketan, Kaithal and Shalini of Maharshi Dayanand School Jind were declared the joint toppers as they all secured 497 marks out of 500.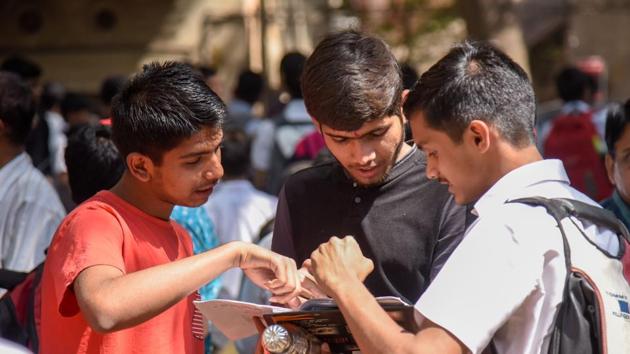 57.39% students qualified the Class 10 exams. The pass percentage this year jumped six points compared to last year when 51.15% students had made the cut. Nonetheless, the poor show in Class 10 continued as 1.4 lakh students failed the exams while another 18,000 got compartments. A total of 3.64 lakh candidates had appeared in the exams.
The experts have blamed the poor results of Class 10 every year to the government's no-detention policy that bars schools from failing any student till Class 8. Uneven distribution of teachers is another factor leading to dismal results in government schools, which have been outperformed by private schools this year by a margin of 10 percentage points.
Like always, girl students outperformed boys by nine percentage points. Compared to 62.17% girls, only 53.43% boys made the cut.
With 496 marks out of 500, the second position was also shared by four students—Nidhi of Hisar, Ritika of Fatehabad, Tannu of Panipat and Divya of Sirsa.
Ekta, Chhaya and Anshu of Jind, Muskan of Sirsa , Sahil of Panipat, Pooja of Hisar, Shubhanshu of Sonepat and Nidhi of Fatehabad were placed at third spot as they secured 495 marks each.
The pass percentage of Class 10 had hit a low of 49% in 2016 when the state board had scrapped its moderation policy. Earlier, the pass percentage used to be high due to grace marks given to students. After 2016, the results have notched-up marginally, with this year going up by six percentage points. Board chairman Jagbir Singh said the board had distributed past three years' question papers to schools this year in its attempt to improve the results.
"The schools were encouraged to hold three mock exams from last year's question papers. That definitely seems to have worked as the results have improved," he said.