Uttarakhand election results: Pushkar Dhami resigns, to continue as caretaker CM
Mar 11, 2022 02:32 PM IST
Uttarakhand election results: The BJP won 47 seats in the 70-member Assembly, ten less than its 2017 tally. However, Pushkar Dhami lost the election from his Khatima seat. The Congress candidate Bhuvan Chandra Kapri defeated the CM by more than 7,000 votes
Uttarakhand chief minister Pushkar Singh Dhami on Friday along with the state cabinet submitted his resignation to the governor Lieutenant General (R) Gurmit Singh at Raj Bhavan. As per the norms, he will continue as the caretaker CM till the new government is sworn in.

"Since we've received a new mandate & this tenure is complete we gave resignation to Governor. He told me to continue until the new govt is sworn in," the chief minister told reporters.

The Bharatiya Janata Party on Thursday ducked anti-incumbency to retain power in the hill state of Uttarakhand, the first by any party to achieve the feat in the state which was carved out of Uttar Pradesh in 2000.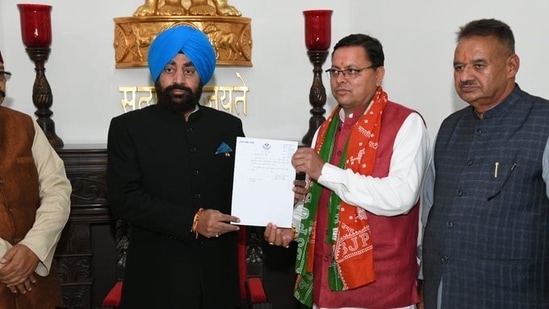 The Bharatiya Janata Party won 47 seats in the 70-member Assembly, ten less than its 2017 tally. However, Pushkar Dhami lost the election from his Khatima seat. The Congress candidate Bhuvan Chandra Kapri defeated the sitting chief minister by more than 7,000 votes.

The Congress, which was seeking return to power, finished with 19 seats. Its tallest leader Harish Rawat too lost from Lalkuan seat.

Besides Uttarakhand, the Bharatiya Janata Party retained Uttar Pradesh, Goa and Manipur.