Why Uttarakhand CM Pushkar Singh Dhami lost elections despite BJP's victory
Mar 10, 2022 06:50 PM IST
Uttarakhand chief minister Pushkar Singh Dhami lost to the Congress's Bhuwan Kapri from Khatima constituency even as the BJP is all set to secure a record second consecutive term in the hill state with a lead in 48 of the 70 assembly seats.
RUDRAPUR: It was anticipated by many during the campaigning that it would not be easy for chief minister Pushkar Singh Dhami to retain his Khatima seat in the Uttarakhand assembly elections and it turned into reality after counting of votes on Thursday. The Bharatiya Janata Party (BJP) workers and supporters, however, are in great shock on his defeat.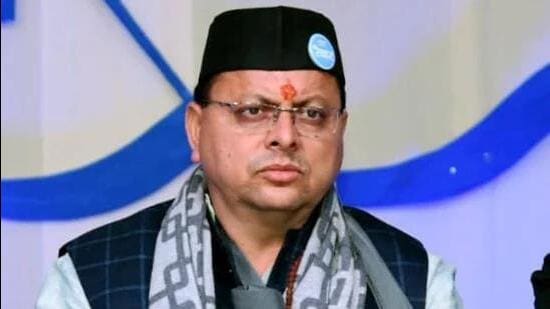 Dhami lost to the Congress's Bhuwan Kapri, whom he had defeated in 2017 polls, even as the BJP is all set to secure a record second consecutive term in the hill state with a lead in 48 of the 70 assembly seats.
Mismanagement of the campaigning, not getting enough time to prove his mettle as a CM and distance from general public during his tenure are some of the factors that led to his defeat, according to locals.
"It is very shocking that Dhami lost his seat in Khatima despite holding CM position. It is a matter of study why this happed. CM's defeat is not new for the state but when party has come in full majority, then CM's defeat is a matter of introspection for the party high command," said Kailash Manral, a close associate of Dhami.
Speculations were rife before Dhami's name was declared as candidate from Khatima constituency that he may not contest elections from Khatima. Speculations were that he would contest election from Didihat or some other seat.
Khatima has 119,980 voters and Dhami was in direct fight with the Congress candidate Bhuwan Kapri. According to caste equations, Khatima has 25% Thakur voters, 5.17% Brahmin, 24% scheduled tribe, 18% scheduled caste, 6.5% Sikh and Punjabi, 4% Bengali, and 7.5% Muslim voters. Apart from the caste factor, the voters were divided into Pahari, Punjabi, Tharu, SC, Purabiya, and Bengali.
Dhami lost the seat despite being from the Thakur community, which has 25% share in votes. During his 7-month tenure, he failed to connect with the general public in his area. People of Khatima say that he was surrounded by his coterie, who didn't want people in need to meet him.
"Actually, we failed to gauge the mood of the tribals. Tharu tribe shares 18% votes in Khatima constituency. On the other hand, the Bahujan Samaj Party (BSP) candidate who is from the Tharu tribe couldn't obtain the tribe's votes. It seems tribal vote went to the Congress and became the reason for CM's defeat," said Nandan Singh Kharayat, chairman, Mandi Samiti, Khatima.
Dhami lost election by 6951 votes. He had defeated Kapri by 2709 votes in 2017. Kapri contested the election with a low profile and penetrated into voters' pockets silently.
"In his 7-month tenure as CM, Dhami failed to fulfil the expectations of the public. He visited Khatima several times but failed to provide employment or develop sources of employment. Unemployment is a big problem in Khatima. He may have done for the state but did nothing for Khatima, "said a trader on condition of anonymity.
In an interview with HT during the campaigning, Dhami admitted that he didn't get enough time to focus on his seat. "I have dedicated the elections to the people of my constituency. This time they are fighting elections for me. For me, the whole Uttarakhand is my home and I have been travelling across the state throughout my life and now also. I have campaigned in over 40 constituencies in the state", he said.
Dhami's rivals claimed that he failed to set up medical and engineering colleges, and in ensuring jobs to the youngsters of his constituency. He also failed to ensure votes of the Punjabi and Sikh farmers, who were dissatisfied with the BJP over the farm laws row.
In the last 4 assembly elections, the Congress has won the Khatima seat twice in the first 2 polls. Dhami won the seat in the last 2 elections. He contested the election in 2012 for the first time and defeated Devendra Chand of the Congress by a margin of 5,394 securing 20,586 votes. He retained the seat in 2017 by defeating the Congress candidate, Bhuwan Kapri, by 2709 votes.
Political analyst Prof MM Semwal, who teaches at Garhwal University said, "The defeat of the incumbent BJP chief minister proves that the Congress lost a golden chance to take maximum mileage it could have otherwise taken in the given anti-incumbent scenario."