Why Harish Rawat and Congress lost Uttarakhand elections
Mar 10, 2022 06:08 PM IST
Harish Rawat's and the Congress' defeat in Uttarakhand are being attributed to various factors, ranging from power struggle to factionalism within the party.
HALDWANI: Having lost 3 elections and again losing this time, Congress leader and former Uttarakhand chief minister Harish Rawat's political future has become uncertain. It was a do or die situation for Rawat, who tried his best to reinforce his position in state politics but he lost the elections from Lalkuan to the Bharatiya Janata Party (BJP)'s Mohan Singh Bisht.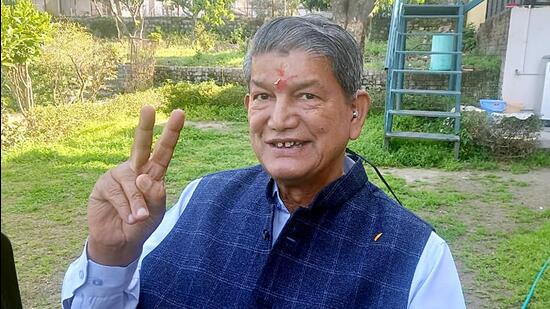 Rawat's and the Congress'defeat in the state are being attributed to various factors, ranging from power struggle to factionalism within the party. Changing his seat at the last moment was another factor. Besides, BJP stalwarts campaigned aggressively in the state and targeted him. PM Narendra Modi made multiple visits to the state and focused on development projects while the Congress lacked aggressive campaigning by central leaders, barring a few public rallies by Rahul Gandhi and Priyanka Gandhi.
Rawat had to change his seat at the last moment, against his wishes, from Ramnagar to Lalkua. It was the first time that he was contesting from Lalkuan seat. And he couldn't give much time to his constituency, as he also kept visiting different areas and held virtual rallies across the state. Rawat also tried his best to ensure that his daughter Anupama Rawat wins from Haridwar and kept campaigning there also from time to time.
This was the fourth time he contested from a new seat. Rawat became MLA for the first time in 2014 after winning the bye-elections from Dharchula constituency of Pithoragarh district. In the last assembly elections in 2017, he fought from 2 seats- Haridwar (rural) and Kiccha in US Nagar district but lost in both to the BJP candidates.
The party's central leadership gave him ticket to contest 2019 Lok Sabha polls from Nainital-Udham Singh Nagar seat. He was defeated in this election also by BJP's Ajay Bhat, with a margin of 3,39,096 votes.
Rawat contested LS polls 9 times so far and had been member of parliament (MP) 4 times. Thrice he was elected from Almora constituency in 1980, 1984 and 1989 while once from Haridwar in 2009. He lost the remaining 4 times. He was the union minister of water resources in UPA-2 government from 2012-14 and won legislative seat from Dharchula in 2014.
Rawat, while accepting the defeat, said he had full faith that people will vote for change. "But some lacunae remained in the campaign strategy. As chairman of the Congress campaign committee, I take full responsibility of this defeat. I want to congratulate Congress candidates who have won, especially the ones who have been elected for the first time. I also want to thank my party cadre and leaders who worked very hard during the campaign", he said
Rawat, who emerged as the central figure in the Uttarakhand elections, also faced attacks from BJP heavyweights who kept campaigning aggressively in the state. The state BJP kept fine-tuning and focusing its strategy against Rawat and failures of his previous regime. They kept reminding people of corruption during his regime and how the BJP's double engine government was bringing development to the state.
Rawat also had to face many challenges and problems due to factionalism and power struggle in his party, with some not happy with his contesting from Lalkua at the last moment. Congress's former candidate from Lalkuan constituency, Sandhya Dalakoti, refused to withdraw following which she was expelled from the party for 6 years. She and her supporters also tried their best to dent the voter base of Harish Rawat.
Geographically, his constituency was a big one, with part of it stretching up to Udham Singh Nagar border and the other to Gaulapar area adjacent to Haldwani. Local Congress leaders and cadre from different areas of this constituency didn't have much coordination between them.
Rawat was initially fielded by the Congress party from Ramnagar assembly seat but his candidature was withdrawn due to rebellion among the local leaders in Ramnagar. He was shifted to Lalkuan to check the possible rebellion by the cadre who were not happy over Ranjit Rawat not being given ticket from Ramnagar. Rawat's once close associate, Ranjit Rawat was not given a ticket from Ramnagar despite his repeated statements that he has worked in Ramnagar for the last 5 years. He was given a ticket from Salt assembly segment.
Another reason that can be attributed to his defeat and that of the party as a whole was the he didn't get the support he wanted from his party leaders and cadre. During the run up to the elections, in December, Rawat even expressed his frustration and dismay on his social media account. He tweeted on the lack of support from the party during the campaign exposing the power struggle and factionalism in the party.
Rawat in his tweets maintained that he was not getting required support from the party's organisational structure while he was swimming through the sea of elections.
He said, in most places, instead of getting cooperation, the party cadre was either turning its back or playing a negative role. He said many crocodiles have been released, according to whose directions he has to swim (in the sea of elections). "Their representatives have tied my hands. I get these thoughts that Harish Rawat, enough is enough, I have swum a lot, now it is time to rest", he had said.
The Congress has been ridden with power struggle between 2 camps. On the one side was Harish Rawat and Ganesh Godiyal, state Congress president, while on the other side was Pritam Singh, leader of opposition and state in charge of Congress, Devendra Yadav. Harish Rawat wanted to consolidate his leadership ahead of the elections and put pressure on the party high command to announce him as the chief ministerial candidate. But the other side wanted the elections to be fought collectively, without declaration of the CM face, as had been the tradition in the party.