Lohri special || Nimrat Kaur: For me, Lohri equals to home
Jan 13, 2023 11:03 AM IST
In an exclusive interview, actor Nimrat Kaur opens up about the nostalgia attached to the festival of Lohri
For Nimrat Kaur, the festival of Lohri holds a special place in her heart, which pulls her back to her home, no matter where she is. That stands true this time too as the actor has come to Delhi to be with her family at the festival.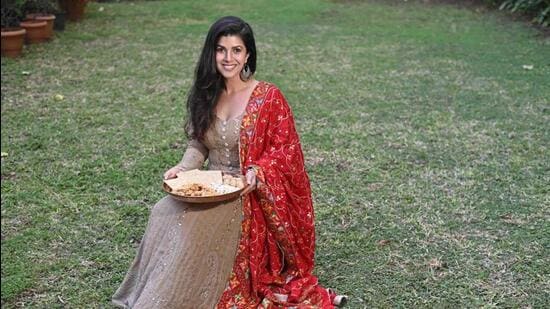 "I have packed all my woollens and come to Delhi to celebrate Lohri with my family. Lohri is very special to me for a couple of reasons. First, it is my nanni's favourite occasion. She loves making these small packets of goodies which we distribute to everyone, whether it is the people who work for the family or neighbours or anyone, everyone gets the same thing," Kaur tells us with excitement.
And the packet has all the "yummy" Lohri essentials from chikki, gajjak, rewari, phulia, groundnuts to til ke laddu.
The 40-year-old shares, "Lohri for me is equal to home. There is not a place that I (would rather be). It is not the same thing. Also, it marks the end of winter. So, it feels really lovely to have a nice bonfire on a bitter cold winter night with everybody sitting around it and eating".
Here, she exclaims, "So, I have not come to Delhi with any other agenda, apart from being with my family on Lohri".
For the Dasvi actor, the festival comes with a lot of nostalgia and warmth.
"The most beautiful part of night is making the bonfire and getting the wood for it. I really enjoy that process a lot, because you don't get to do that on any other day in the year. I still remember that neighbourhood would come to celebrate Lohri at her grandmother's house," she says.
Kaur continues, "It is a really sweet ritual, which has deep roots in our memories. We have always had a bonfire on Lohri, ate rewari, popcorn and groundnuts. I associate that with a lot of nostalgia and lot of warmth".
Remind her of a Lohri folk song, Sunder Mundriye, Kaur gets excited and starts singing it.
"I remember that song. As kids, we used to sing the song in front of people's house and then we used to get Lohri packets… The stuff that my family makes now," says the actor, revealing that her mother has done all the shopping for the festival this year.
When it comes to the Delhi winter, Kaur says, "I'm dying to feel the cold wind in my hair. I am so excited to feel the cold. I hope it's not too foggy. I can't wait to enjoy Delhi winter".