Ukrainian director Stanislav Kapralov: Organised my father's evacuation from Kyiv recently, it was nerve-wracking
Published on Mar 10, 2022 04:39 PM IST
Ukrainian director Stanislav Kapralov feels President Volodymyr Zelensky has become the face and soul of the country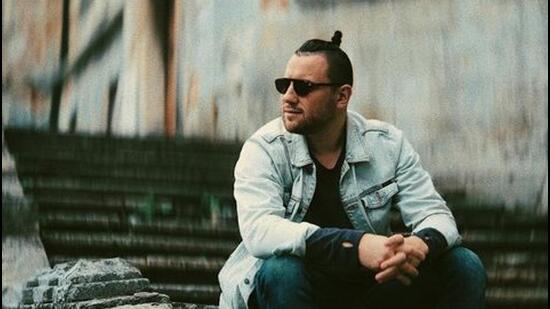 Ukrainian director Stanislav Kapralov has moved to western Ukraine from Kiev after Russia invaded his country. Unwilling to leave his homeland in tough times, he feels the lines of conflict are scripting a new story for the country and its cinema.
"I am currently in Ukraine. Men are not allowed out of the country due to mobilisation. But I don't see many men willing to leave. Everyone wants to stay with their country in the most difficult period of its history," Kapralov tells us in an exclusive interview.
The director, known for Egregor (2021) and Let It Snow (2020), was working on his next Hollywood project when Russia invaded Ukraine.
"Before the war, I was in preparation to shoot a new film, which was supposed to be filmed in Chernobyl. Hopefully, after we kick them out, I will return to the project. I think we'll have to move the shooting to Europe," he says, adding, "I will most likely go to shoot my new project in the USA. I think that cinema will be a priority in Ukraine after the war".
Since the conflict in the region began, his life has been all about fighting for survival and planning evacuation of his family.
"There is no bombing in the western part of Ukraine now. I was there in the first days of the war and took my family to the territory of the European Union. Now I'm back," he says.
Talking about how he and his friends are trying to help their country, he tells us, "Everyone is determined to lay out all their skills in order to (help). The other day I managed to organise the evacuation of my father from Kyiv. It was an incredibly nerve-wracking operation. He had to be taken from his house to the point of evacuation. My friends agreed to pick him up. He left with one backpack in his hands. At that time there was an air raid in Kyiv, and I was very worried. Thank God, everything is fine and three days later, dad is already in Warsaw. My grandmother is now in Kyiv, she did not want to leave."
Here, Kapralov, who is also a screenwriter and producer, praises Ukraine President Volodymyr Zelenskyy for emerging from the crisis as a "hero".
"Not everyone supported Zelensky before the war, including me. But in this difficult moment, he showed himself heroically. He fights every day and is today the face and soul of the country. We are all behind him. He didn't let us down and we won't," says the director, who has worked with several big names from the entertainment industry of Ukraine, including Pacific Rim: Uprising Ivanna Sakhno.
Wrapping up, the director expresses his gratitude for coming out to support his country. "I am glad that the whole world has united in defence of justice. Ukraine is now a protective shield of democracy, peace, and justice. I hope this support continues," he signs off.
Personalise your news feed. Follow trending topics