Amit Jain's brutal honesty in Shark Tank promo gives Ashneer Grover flashbacks, Namita says 'zyaada harsh horae ho'
Feb 04, 2023 01:50 PM IST
Shark Tank India judge Amit Jain criticised pitchers for their poor product. He called their pitch 'timepass' and their branding 'bekaar' for a haircare brand. Co-judge Namita Thapar told him that he is being too harsh on them. Here's how he reacted.
Shark Tank India judge Amit Jain criticised a pitcher for their poor product on the show in the latest promo that was posted by Sony Entertainment Television. He called their pitch a 'timepass' and branding of their haircare product 'bekaar.' He found many technical faults in the product. His co-judge Namita Thapar told him that he is being too harsh by using such strong words against pitchers of the company Manetain. (Also read: Shark Tank: Anupam Mittal tells pitcher he looks like Jalal Agha, he says 'haan mera mamu hai'. Watch)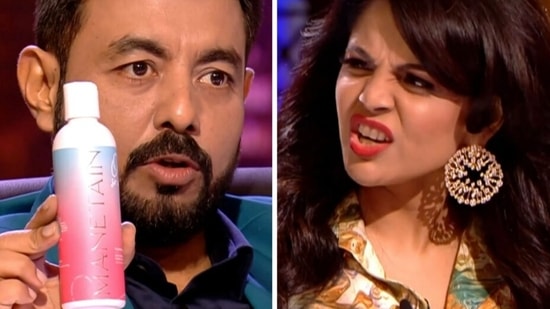 Sony Entertainment Television shared the promo of Amit Jain with the pitcher with caption, "Shark Amit Ne Diya Ek "Candid" Feedback (Amit gave a candid feedback to the pitchers)."
The promo opened with Amit saying to the pitchers of Manetain, "Mai aapko candidly bolna chahta hu ki aapko sachaai sunne ki zarurat hai, ye branding bohot hi bekaar hai mere view mai (I want to tell you candidly on your face because you deserve to listen the actual thing that the branding is very poor)" as he held a bottle Manetain in his hand.
Then, other shark tank judge, Aman Gupta held the tiny bottle in his hand. Amit contined, "Aapka product agar aise rakha hai toh kewal Manetain dekh sakta hoon, aise rakha hai toh Oh so clean padh sakta hoon, aap shelf pe jab rakhoge toh kya padhwaana chahoge, koi value proposition customer nhi bhad sakta hai (If we keep your product like this, so one can only read 'Manetain', if we rotate it a bit then, 'Oh so clean' can be read, but if we keep it on our shelf, what do you want us to read, this cannot lead to a good value customer proposition)."
He further said, "Lekan jo puri pitch aapne bataayi in depth about curly hair and uski maintenance, product dekhliya ek pe bhi nhi likha ki ye curly hair ke liye bana hai (In your pitch, whatever you talked about curly and its maintenance, but I cannot see the same thing written on your product if its useful for curly hair)." Judge Vineeta Singh agreed with what he said. Amit told, "Kahi na kahi woh value proposition nikaal kar laani chaiye thi.., last point mujhe lagta hai ki aap log isse timepass kar rahe ho, chaar saal se aap idhar udhar income source se, and foundation commitment mujhe kam laga (You guys should have brought value proposition in the forefront, I think you are wasting your time and commitment from your end is negligible)."
Namita Thapar said to Amit, "Nhi, but timepass par thoda harsh word nhi hai Amit (Don't you think the usage of word 'timepass' is a bit harsh)." He said to her, "Haan harsh hai and I want to be harsh because that is how it should be, founder ko apni saari jagah ek jagah daalni padhti hai ek kaam mai, 10 naav pe sawaar nhi ho sakta hai (Yes yes. It is harsh, a founder needs to put all their efforts in one product in same direction, he cannot do 10 things at one single time)." Namita gave a weird reaction in the end.
Shark Tank India Season 2 is hosted by Rahul Dua. The show has Anupam Mittal (founder-CEO of Shaadi.com), Aman Gupta (co-founder-CMO of boAt), Namita Thapar (executive director of Emcure Pharmaceuticals), Vineeta Singh (co-founder-CEO of SUGAR Cosmetics), Peyush Bansal (founder-CEO of Lenskart.com) and Amit Jain (co-founder-CEO of CarDekho Group and InsuranceDekho.com) as sharks. It airs on Sony Entertainment Television at 10 pm from Monday to Friday.