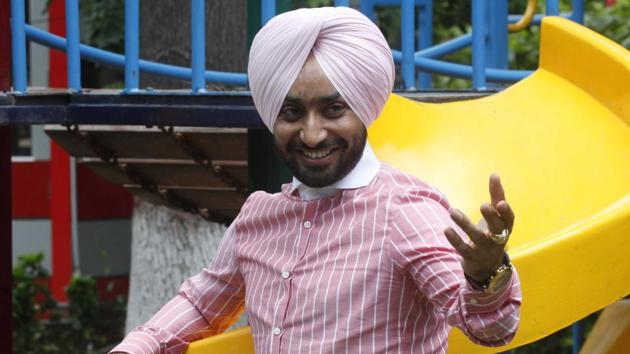 'The Black Prince' shatters myths about Maharaja Duleep Singh: Satinder Sartaj
The Black Prince will be released in three languages, English, Punjabi and Hindi, in 18 countries.
Hindustan Times, Chandigarh | By HT Correspondent
UPDATED ON JUL 11, 2017 07:34 PM IST
The Black Prince, set to release on July 21, will shatter many misrepresentation about the last maharaja of Punjab. Sartaj, who portrays the character of the maharaja, says that the film addresses the issue of how Maharaja Ranjit Singh and his son, Maharaja Duleep Singh, have been misrepresented in history. The actor had visited the Press Club for a media interaction in Chandigarh on Tuesday.
"After Ranjit Singh, Duleep Singh is mentioned very little in history. The film tells as to how he was exiled as a child, how he struggled to take back his kingdom, and how he sacrificed everything to regain what was rightfully his. Duleep's existential struggle finds a place in the film," he says.
The Black Prince is a step towards bringing to light the true facts about the Maharaja's life. "The aim of making this film was to correct the misrepresented image of Duleep Singh in history," says Sartaj.
A lot of research was put into the film as a panel of 11 historians worked together on the project.
ASTONISHING FACTS BROUGHT TO LIGHT
"The date of birth of the maharaja, as mentioned on his grave, is wrong. On the grave it is September 4, 1838, but in real, it was September 6, 1838. The makers have taken care of such little details in the film," he said.
"Maharjah Duleep Singh's own narrative, The Maharaja and the Government; A Narrative, intelligence records by General Tevis, contemporary printed material about his pardon on August 25, 1890, and many other documents secured from Britain, India and Pakistan have been used to create a truthful image of the maharaja," he adds.
Being a non-actor, Sartaj took training from an acting institute in Mumbai to fit into the character. He said that he has been lucky to have the same kind of physique as that of the maharaja. He mentioned as to how he already had the shy and reserved nature of the maharaja, which helped him a lot.
"The most challenging part," he says, "was when I had to shoot for a long monologue as it acquired another accent which is much tougher.
It has been a self-realising journey for me. Being a poet, I took serious interest in the maharaja's life. I had visited many places related to him, including the hotel room where he died. It was an astonishing experience for me to portray Duleep Singh, and to be a part of such an important project, which aims at reuniting Sikhs with their true history."
Five songs used in the film have been written and sung by Sartaj, including his first duet song, 'Beet Janiyan.'
GIVES VOICE TO PRE-INDEPENDENT INDIA THROUGH SATIRE
One sequence that Sartaj specifically mentioned is: Maharani Jindan asks Duleep Singh about how life looks in Britain and he says that it's peaceful and sometimes the sun shows up too. Maharani Jindan then says, "Mai tan suneya ke angrezan de raj ch kde sooraj chhipda ni" (But I had heard that the sun never sets in the British rule).
ott:10:ht-entertainment_listing-desktop

Close