Kangana Ranaut slams Anjali Arora for age-shaming Payal Rohatgi on Lock Upp: 'Will you call me aunty or buddhi?' Watch
Published on Mar 13, 2022 11:18 AM IST
Kangana Ranaut berated Lock Upp contestant Anjali Arora for age-shaming fellow contestants Nisha Rawal and Payal Rohatgi in a recent episode.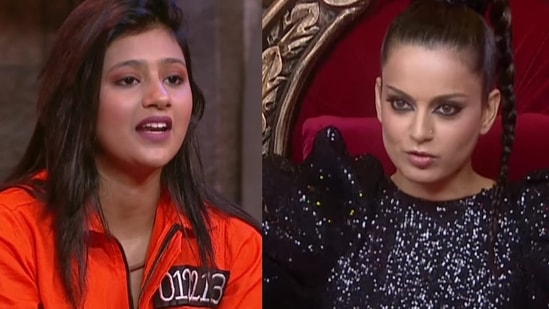 In the latest episode of reality show Lock Upp, host Kangana Ranaut took offence to certain ageist statements made by contestant Anjali Arora. In a previous episode, Anjali had referred to some other fellow contestants as 'buddhi (old woman)'. On Saturday's Judgement Day episode, Kangana came down hard on her for the comments and scolded her for using that tone. (Also read: Lock Upp's Tehseen Poonawalla tells Kangana Ranaut his 'secret': 'Top industrialist asked me to sleep with his wife')
During the episode, Kangana took Anjali to task over her comments from earlier in the week. Addressing the social media influencer, the actor said in Hindi, "Anjali, whoever is a little older than you, they are all buddhe (old). What will you call me now? Aunty or buddhi (old woman)? What age group do I come under?" Anjali tried to clarify by saying that she says it because she is 'targetted' for her age. " For every little thing, they are targetting me that I am young," she told Kangana.
Nisha Rawal, who was at the receiving end of Anjali's comments, then responded saying, "I really took offence because I think it's really not a nice and decent way to talk like that." Kangana turned her attention to Anjali once again and said to her, "When you talk such things, what does one call you if not a kid."
In a recent episode of Lock Upp, Anjali had a verbal argument with fellow contestants Nisha and Payal Rohatgi. When Payal called her a kid and asked her to 'learn from more experienced people', Anjali retaliated and said, "Haan toh buddhon ke liye bhi nahi jagah nahi hai na ye… bachchon ke saamne buddhe khade hain (This place is also not for old people, who are standing in front of the kids)." Nisha then had a fight with Anjali over her comments.
On the video of the exchange shared by Alt Balaji on Instagram, many fans applauded Kangana for scolding Anjali for her age-shaming comments. A few, however, pointed out that Kangana and other contestants calling her 'bachchi (little girl)' was no better. A viewer commented, "Anjali calling buddhi it's age shaming and they called bachchi that's not age shaming?"
Lock Upp is a reality show where contestants are locked up inside a prison without basic amenities and they must compete in tasks to earn their basic requirements and needs. Kangana is the show's host. It streams on Alt Balaji and MX Player all seven days with Kangana's Judgement Day episodes streaming on weekends at 10.30 pm.
Close Story
Personalise your news feed. Follow trending topics