Lotus Make-Up India Fashion Week 2019: Day 2 was about ivory, structured silhouettes, sneaker culture and gossamer gowns
Day 2 of the Lotus Make-Up India Fashion Week Autumn Winter' 2019 was an ode to beautiful textures, pop-cultural trends, sheer and a coherent design narrative.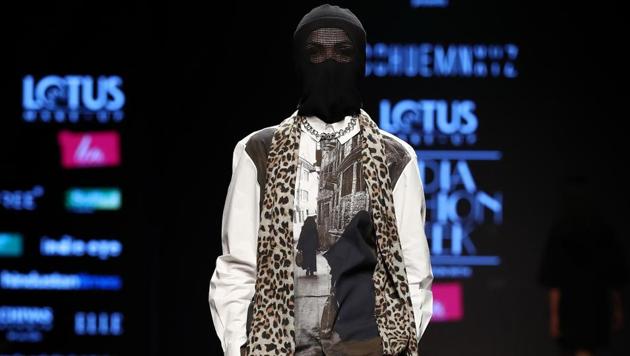 Updated on Mar 15, 2019 02:17 PM IST
Hindustan Times, Delhi |
Srishti Jha
The Lotus Make-Up India Fashion Week Autumn Winter' 2019 day two was an ode to the likes of ivory and white, colours, structured silhouettes, pop-cultural trends and voluminous sheer textures, traditional motifs, metallic foil prints and modern industrial art. It is fascinating to see the idea of design and the parallel storytelling around it.
Huemn's Fall 19 paid homage to the raw energy of the young Kashmir landscape with a play of contrasts and set against the backdrop of a beautiful, bountiful conflict ridden landscape. The entire line is a play of contrasts and strong references from the popular 90s sneaker culture trend reflecting in the garments in terms of shapes, cuts and silhouettes in denim and fleece. The essence of gender neutrality was well-narrated and it is about time to understand fashion with a bigger message, a stronger voice.

Prashant Verma's collection was backed by an evocative performance art and the gossamer gowns and layered apparels were close to moving poetry. The Miracle Show was beyond gender, age and the idea of established perfection. It was interesting to see a collection so powerfully decked with a strong storyline. Varma's versatile work was a step-up from his collection last year.

Samant Chauhan celebrated women, their journey and strengths with a beautiful collection in ivory with floral detailing and the texture was a win-win here. The sheer magic of the show was close to a moment of time-travelling and embracing the many dimensions of her and her world.

Close Story