Challenges to India's G20 Presidency and Effectiveness of G20 Framework
Jan 27, 2023 03:58 PM IST
This article is authored by Mehdi Hussain, Assistant Professor, University of Delhi and PhD Research Scholar, Jawaharlal Nehru University.
India's G20 (The Group of Twenty) Presidency inherits volatility of geopolitics coupled with a slowdown in global economic activity. The road ahead for India is full of challenges including the war on Ukraine and the Covid-19 pandemic threatening the global economy, which is experiencing disrupted supply chains, cost of living crisis, soaring energy prices and challenges to climate action.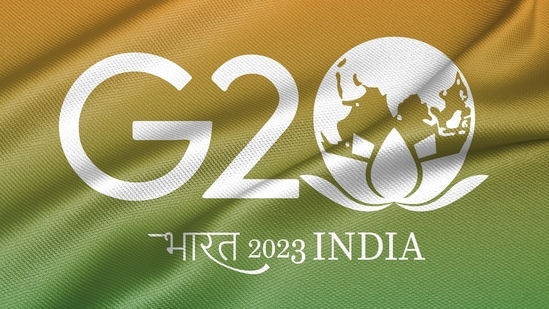 India has chosen the theme – 'Vasudhaiva Kutumbakam' or 'One Earth, One Family, One Future' for her G20 Presidency representing a holistic approach of growth with sustainability in consideration of all life forms in development process linking with the protection of the planet.
G20 represents, as the premier forum for global economic cooperation and policy guidelines, the desire of the developed and emerging economies to address global economic challenges collectively. It serves 20 major economies of the world; additionally, there are 9 guest countries and 14 multilateral organisations as participants of G20 including the United Nations (UN), World Trade Organization (WTO), World Health Organization (WHO), World Bank, International Monetary Fund (IMF), International Labor Organization (ILO), Association of Southeast Asian Nations (ASEAN), African Union, International Solar Alliance (ISA) and Coalition for Disaster Resilient Infrastructure (CDRI), among others. G20 is a multilateral framework addressing various global issues barring geopolitics.
Prime Minister Narendra Modi has declared that the Presidency will be inclusive, ambitious, action-oriented and decisive in the direction of making it a 'People's G20' for a post-pandemic world. Indian Presidency has set G20 priorities with a special focus on macroeconomic implications of food and energy insecurity, climate change, strengthening Multilateral Development Banks (MBDs), financing inclusivity, equitable and sustainable growth, digital public infrastructure, and climate financing.
Indian Presidency has to reconsider transboundary challenges to financing needs through MBDs, which constitute a significant hurdle in addressing shared global economic challenges like global inflation, food and energy insecurity and macro-economic implications of climate change. Thus, multilateral financial institutions have to keep a track of the monetary policy changes in the US that have a significant impact across borders in developing countries while managing their fiscal policy. Thus, India has to take a big step forward in bringing governance reforms at the IMF and the World Bank. Further, the Indian Presidency has followed a people-centric approach to financial inclusion which could come through an effective redistribution of existing capital and other resources.
Although India has been the voice of the Global South in multilateral platforms, setting their agenda and championing their cause in the aftermath of the Covid-19 pandemic is challenging. The pandemic has worsened the economic conditions of these countries, deflected their focus from achieving sustainable development goals and exposed the gap in health system as distinguished from that of the developed countries. India has to address these issues using her experience and skills in digital inclusion, public health and pharmaceuticals, sustainable growth and development which can bring together the developing and developed economies. During the pandemic India's 'Vaccine Maitri' has shown her commitment to the most-needy global citizens in fighting the health crisis.
Supply of fertilisers and foods, another major policy challenge, is affected due to the Russia-Ukraine war and the following restrictive trade practices and high energy prices cutting off the supplies of Russian and Ukrainian nitrogen and potash from the global fertiliser markets. Russia and Belarus produce about 40 per cent of potash globally, and Russia about 23 per cent of traded ammonium nitrate globally, but the war has restricted their outflow supplies. India and several countries suffered from this to the extent of risking food security and starving the planet. India depends heavily on imports of fertiliser requirement of nitrogen, phosphorus and potash for the country. Then, for the European Union (EU) and India, nitrogen-based fertiliser requires natural gas, which is also predominantly imported, the supply and cost of which is affected by the war. Indian farmers had to be subsidised for fertilisers which put burden on the government budget, which is expected above Rs. 2 lakh crores for 2022-23. Then, it is reported that the cost of fertilisers has been raised by 300 per cent in some African countries. The role of India's intervention in controlling food prices can be seen in terms of how well she promotes tech-based 'vertical farming' that requires less fertilisers. It can also help in climate adaptation and mitigation. However, one solution cannot serve the needs of all countries.
G20 Sherpa Amitabh Kant argues that the challenge to India's G20 Presidency lies in establishing 'consensus' on the G20 agenda. Despite geopolitical tensions, India is going to continue at the G20 platform its constructive dialogue and diplomacy which she effectively utilised in the run-up to the Bali Summit on the crucial issue of condemning Russia's aggression against Ukraine. Minister of External Affairs S. Jaishankar said that India has been pursuing it consistently and persistently, thereby, signaling larger resonance. India and G20 reiterated their position on the matter by endorsing the resolution of the UN General Assembly adopted on 2 March 2022. Thus, she can build on this by bringing on board Western countries and Russia together on issues of non-geopolitical concerns.
G20 provides a collaborative platform for re-affirming the promises of several multilateral organisations. It also plays a complementary role in implementing the policies for these bodies, for instance, working towards reinforcing the measures for effective implementation of the Paris Agreement in the UN COP27 climate summit held in Egypt in November 2022 to bring the global temperature down to 1.5 degree Celsius. The Sherpa declared that 'climate change and vast targets for net zero by 2050 is a huge opportunity and not a challenge'. India is offering her rich, ancient and sustainable traditions in favor of environment-friendly practices over market-based consumerism embodied in the concept of LiFE (lifestyle for Environment). Green growth will be promoted through climate finance and technology along with just energy transitions for developing countries. However, it requires a huge capital for the generation of which G20 can coordinate with IMF and World Bank.
Its Task Force complements the global pandemic new financial intermediary fund for pandemic prevention, preparedness and response (PPR) architecture hosted by the World Bank in improving the global health governance system, without further duplicating and disintegrating it. In order to ensure food security, the Bali Summit also supported the Black Sea Grain Initiative of Turkey and the UN for an unimpeded delivery of grain, foodstuffs and fertilisers from Ukraine and Russia.
The G20 structures follow up on previous G20 Summit Declarations and coordinate among different countries and multilateral institutions by sharing the best practices and experiences. In 2023, the Task Force continues to coordinate through appropriate mechanisms between Finance and Health Ministries in order to develop joint responses to pandemics and identify economic risks and vulnerabilities from pandemics, keeping in mind country-specific conditions. It also mobilises financial resources to this effect.
The effectiveness of G20 can also be understood in terms of its commitment to the principles of multilateralism and transparent and rule-based multilateral trade. The G20 leaders have been strengthening multilateral trading system in sustainable and transparent manner, which is defined by rule-based, free, fair, open, inclusive and non-discriminatory. The Bali Summit pushed for reformation of the WTO which is crucial as G20 represents 85 per cent of global Gross Domestic Product (GDP), 75 per cent of international trade and about two-thirds of world's population. The International Financial Institutions such as the World Bank and IMF represent post-World War II global situations, whereas restructured multilateral institutions are required to address the new realities for a post-Covid-19 world.
The emerging economies of the Global South such as India, Indonesia, Mexico and South Africa played the role of deal maker by bringing geopolitical powers together for the Summit Declaration. In the immediate aftermath of the Russia-Ukraine war, several Western countries walked out of the G20 plenary meeting in New York in April 2022. Indonesia, thus, showed its creative diplomatic skills of handling a sensitive global crisis. The Bali Summit has reinforced the relevance of the multilateral G20 for a global collaboration and cooperation in times of a crisis to work collectively in developing preparedness and response capabilities to the complex global challenges.
G20 provides an effective multilateral stage for the Global South in raising their agenda with a greater voice. For the first time, G20 is having only developing and emerging countries in Troika – predecessor Indonesia, incumbent India and incoming Brazil. The Bali Summit accommodated concerns of the Global South in ensuring food and energy security, channelising Pandemic Fund for pandemic responses and enhancing preparedness in tackling climate change. It set the target of reaching a fund of US Dollar 100 billion for climate finance which could benefit developing countries. Indian Presidency is, thus, in continuation of this trend.
This article is authored by Mehdi Hussain, Assistant Professor, University of Delhi and PhD Research Scholar, Jawaharlal Nehru University.