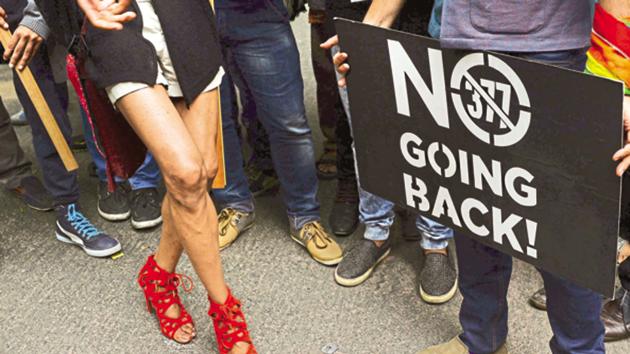 20 IITians move Supreme Court challenging Section 377
A petition by 20 IITians has been filed in the Supreme Court challenging Section 377 on grounds that it violates Articles 14, 15, 16, 19, and 21 of the Constitution.
Hindustan Times, New Delhi | By Dhamini Ratnam
UPDATED ON MAY 14, 2018 09:45 PM IST
Current and past students of the Indian Institute of Technology (IIT) who identify as gay, bisexual and transgender have filed writ petitions challenging Section 377 of the Indian Penal Code (IPC) that criminalises any form of sexual intercourse that is non-penile vaginal, irrespective of whether it is consensual or not.
A petition by 20 IITians from Bombay, Delhi, Guwahati, Roorkee and Kharagpur among other branches, has been filed in the Supreme Court challenging the section on grounds that it violates Articles 14, 15, 16, 19, and 21 of the Constitution.
These articles pertain to fundamental rights of equality, freedom of expression and personal liberty.
The petitioners belong to a pan-IIT support group Pravritti, which was formed in 2012 as a closed group on Facebook. The group now has over 350 members, who hail from diverse class, gender and regional backgrounds and age groups.
"Several of the petitioners have experienced fears of abandonment, stigmatisation, exclusion, guilt and shame throughout their childhood years on account of the reaction to their sexuality," the petition stated.
The petitioners include 56-year-old Sridhar Rangayan, the co-director of the annual Kashish Mumbai International Queer Film festival, and 21-year-old Urvi (who prefers to use this name, instead of her birth name that is used in the petition) who hails from Anantapur and identifies as a transwoman. Urvi is a first-generation learner in her family of farmers and is the recipient of prestigious research fellowships. Some of the petitioners are employed in multinational corporations and top Indian business ventures, while some are still pursuing their studies.
Rangayan, who was a student at the Industrial Design Centre at Indian Institute of Technology-Bombay from 1984 to 1986, said: "One faced a lot of anxiety and fear about one's sexuality, and I wish there was a support group for me then. A more inclusive campus is so essential — section 377 not only affects a student's studies but also their future prospects."
Some of the petitioners have grappled with mental health issues on account of fear of the law and stigma associated with being gay. This has affected their prospects of employment, and contributed to brain drain from India, the petition stated.
Udai Bhardwaj, a 23-year-old 2017 IIT-Kharagpur alumnus, said he decided to join the petition because it was time to stop living in fear of the law. "I'd like to have the option to have a meaningful relationship the way my sisters and friends who are heterosexual, can."
"The IITs are not just institutions of national importance but attract a diversity of bright young students from across the country from Kakinada in Andhra Pradesh and Sambalpur in Odisha to metropolitan cities. It is a slice of India itself, and within it you have this spectrum of students who are from gender and sexual minorities," said Menaka Guruswamy, a lawyer representing these petitioners.
Growing tribe
Since 2016, 26 LGBT petitioners have filed writs challenging Section 377 at the Supreme Court. This signals a growing confidence in the community to come out in the public eye and claim their sexual orientation and gender identity.
In April, three separate petitions were filed by Ashok Row Kavi, chairperson of the NGO Humsafar Trust with other members, by Lucknow-based social worker Arif Jafar, and by hotelier Keshav Suri. In 2016, two separate petitions were filed by three members of the transgender community, including activist Akkai Padmashali, and by five members the LGBT community, including Sahitya Akademi award winner Navtej Singh Johar.
In January, a Constitution bench headed by Chief Justice Dipak Misra was set up to hear eight crucial matters, including the Navtej Johar petition. All other writ petitions filed till last month have been tagged to this case.
It remains to be seen what the court will do with the new petition, which could tagged with the existing petitions before the bench.
A long battle
The legal battle against Section 377 is nearly two decades old. A petition filed in the Delhi high court in 2001 by the Naz Foundation, an NGO working to prevent HIV/AIDS, eventually led to the reading down of the section in 2009, such that it did not apply to consenting adults.
Some of the parties that challenged the high court verdict included individuals such as astrologer Suresh Kumar Koushal and organisations such as the All-India Muslim Personal Law Board, the Apostolic Churches Alliance and Kranthikari Manuvadi Morcha Party.
In 2013, the Supreme Court reversed the Delhi high court judgment. This was challenged and multiple curative petitions lie before the Supreme Court.
In 2014, a total of 1,157 students, faculty members and staff from IITs across the country wrote an open letter to the government and the directors of the IITs, protesting against the apex court judgment. It drew attention to how "alternate sexuality and gender identity is often treated as a form of deviance in schools, colleges, workplaces, religious institutions, and governmental institutions."
The latest petition draws attention to the impact of the law on some of the brightest young minds in the country today.
"Striking down Section 377 of the IPC as constitutionally invalid will ensure that LGBT citizens including the petitioners feel safe and protected particularly in their childhood and teenage years which is an extremely formative and important period in their lives and one during which they themselves are struggling to fully understand and come in terms with their identity," the petition says.
Close