22,500 Indian citizens brought home from Ukraine: Jaishankar
Updated on Mar 16, 2022 02:57 AM IST
External affairs minister Dr S Jaishankar said the Ukraine conflict's impact on energy and commodity prices is already visible and the disruption of global supply chain is expected to be significant.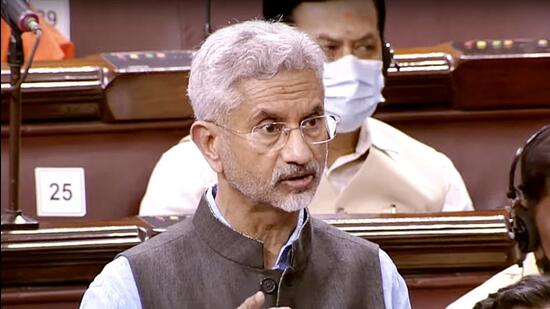 The economic impact of the Ukraine conflict, including on energy and commodity prices, are already visible and this underscores the need for an "Aatmanirbhar Bharat" (self-reliant India), external affairs minister S Jaishankar said on Tuesday, while informing Parliament that about 22,500 Indian citizens have returned home safely from the war-torn country.
India has sought an end to all hostilities and told parties involved in the conflict that there is no option but to return to diplomacy and dialogue, Jaishankar said in a suo motu statement in the Rajya Sabha on the situation in Ukraine.
He said a small number of Indians, running into double digits, are still in Ukraine and an operation is currently underway to bring out "some students" stuck in southern Ukraine through Russia.
He also told the House that efforts are currently underway to bring back the body of Naveen Shekarappa Gyanagaudar, a final year medical student who succumbed to injuries sustained while fetching groceries in Kharkiv. The government has taken care of the medical expenses of another Indian, Harjot Singh, who suffered bullet injuries while on his way out of Kyiv.
Also Read | Jaishankar hails Operation Ganga as students, evacuated from Ukraine's Sumy, arrive in India
"The Ukraine conflict has major economic implications. Its impact on energy and commodity prices is already visible. The disruption of global supply chain is expected to be significant," Jaishankar told the House.
"India has substantial dealings with both Russia and Ukraine. An assessment in this regard by the government is underway. However, the House will appreciate that there is all the more need for an Aatmanirbhar Bharat," he added.
While India's focus was the evacuation of its nationals from Ukraine, developments had simultaneously played out at the United Nations, he noted.
"India's position on the Ukraine conflict has been steadfast and consistent. We have expressed deep concern at the worsening situation and called for immediate cessation of violence and end to all hostilities," he said, adding the country's statements at the UN Security Council and the General Assembly had sought an urgent ceasefire and safe passage for stranded civilians.
"We have reiterated at the highest levels of our leadership to all parties concerned that there is no other choice but the path of diplomacy and dialogue. We have emphasised to all member states of the UN that the global order is anchored on international law, UN Charter and respect for territorial integrity and sovereignty of states," Jaishankar said.
In keeping with India's statements at UN bodies, Jaishankar did not directly refer to Russia's actions in Ukraine. India had abstained on a move at the Security Council to condemn the Russian invasion.
Congress MP Anand Sharma welcomed India's efforts but asked about the efforts being made by the government at the UN Security Council for effective interventions, for early cessation of armed conflict and resumption of dialogue for a negotiated resolution of issues between Ukraine and Russia. He also asked about the financial implications of the Russia-Ukraine conflict on India.
The root causes for tensions between Russia and Ukraine include "the security architecture, political governance and inter-State politics" as well as the "challenges of implementing understandings reached earlier", Jaishankar said. The hostilities that began on February 24 placed more than 20,000 Indians in "direct danger".
Complicated evacuation process
Operation Ganga, the move to evacuate Indians, was a complicated exercise as nationals were dispersed across Ukraine and it had to be undertaken "at a time when military actions, including air strikes and shelling, were underway". The evacuation involved moving Indians nationals more than 1,000km in a war-torn situation and required exiting border check points clogged by an estimated 2.6 million refugees, he said.
The Indian embassy in Kyiv issued an advisory on February 15 asking Indians, whose stay was not essential, to leave Ukraine. Further advisories were issued on February 20 and 22, pressing students to leave Ukraine, and air bubble restrictions were eased to increase direct flights. Around 4,000 Indians departed till February 23.
"Despite our efforts, however, a large majority of students elected to continue staying in Ukraine...There was a natural reluctance to leave educational institutions and affect their studies. Some universities actively discouraged and showed reluctance to offer online courses," Jaishankar said.
Many students received conflicting advice regarding safety and, in the period leading to Russia's military operation on February 24, political signals were "confusing", he said. "Public urgings not to be taken in by alarmism and reports of force withdrawals created a confusing picture. The net result was that about 18,000 Indian citizens were caught in the midst of conflict when it began," he added.
India deployed additional diplomats in Ukraine and neighbouring countries and 90 evacuation flights, including 14 by the Indian Air Force, were operated from Romania, Poland, Hungary and Slovakia. Prime Minister Narendra Modi spoke to the presidents of Russia and Ukraine on multiple occasions and specifically took up the safe evacuation of Indians, especially from Kharkiv and Sumy.
Jaishankar acknowledged that the most challenging part of the evacuation was getting Indians out of Kharkiv and Sumy, which witnessed heavy shelling and air strikes. Many students from Kharkiv were moved to Pesochyn in view of anticipated escalation of hostilities and then ferried in buses to the western borders. The evacuation from Sumy was "extremely complex as our students faced the prospect of being caught in crossfire", he said.
"Their evacuation from the city needed a credible ceasefire, a daunting challenge in the current situation. This finally materialised...due to the personal intervention of the Prime Minister himself with the presidents of Ukraine and Russia," he added.
India also evacuated 147 citizens of 18 other countries, including neighbours such as Bangladesh and Nepal. The Indian embassy was temporarily relocated to Poland on March 13 because of the rapidly deteriorating security situation.
Opposition questions 'mixed messages'
Sharma said: "I ask this question, because knowing full well that diplomacy is not loud, everything sometimes is not stated. But, I hope we are making efforts and we would like that reassurance."
Congress leader Mallikarjun Kharge asked how other countries including the US were able to issue advisories and pull out their citizens in time.
Sushmita Dev of the Trinamool Congress said: "So, when you use the word 'evacuation', please be clear. One, that the Government or none of the machineries they used actually reached the conflict areas because we saw the students walking to the borders. A precautionary measure which is asking you to leave on a commercial flight because there was only one Air India flight, does that amount to evacuation by the Government?"
Responding to charges from lawmakers that the government had not done enough to alert the Indians in Ukraine, Jaishankar said the embassy had issued "very clear advisories" from February 15. He said these advisories were "not something that is done lightly". At the same time, he said the students were in a predicament because of the approach of some Ukrainian universities, who went to the extent of saying that anyone leaving would jeopardise their degree.