Adani storm hits Parliament as stock meltdown continues
Feb 02, 2023 11:59 PM IST
The developments came a day after Adani abruptly abandoned its $2.5 billion follow-on stock offering in a late-night statement
Opposition lawmakers on Thursday disrupted both Houses of Parliament as they demanded an investigation into allegations of fraud against the Adani Group under the supervision of the Supreme Court or by a joint parliamentary committee, while the market woes of one of India's biggest conglomerates deepened with the group losing more than $100bn, or ₹8.76 lakh crore, in value in six days.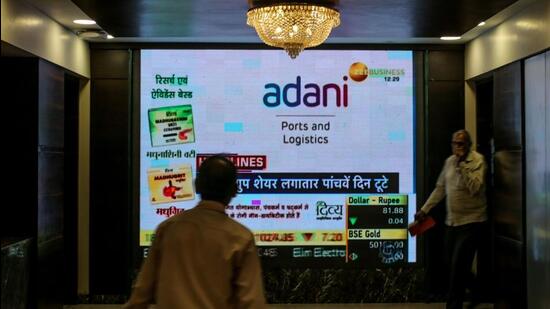 The developments came a day after Adani abruptly abandoned its $2.5 billion follow-on stock offering in a late-night statement, hours after its flagship Adani Enterprises lost a staggering 28% in value over a single session.
Shares of Adani Enterprises tumbled a further 26% on Thursday, and other group firms also took a beating, with many hitting their circuit breakers.
Opposition MPs raised the matter in both Houses. Congress president Mallikarjun Kharge said an investigation should cover the manner "in which government-owned companies are forced to invest in firms".
"All the parties together, we have taken a stand that this wastage of LIC's money and of money taken as loan from SBI and possibly many other such financial institutions where the hard-earned money of the common ban has been deposited, by investigated either by a joint parliamentary committee or a probe under the Supreme Court with day-to-day updates," he said, adding that the objective was not to targeting anyone personally.
The mayhem in Adani stocks was precipitated by a report by an American activist investor group Hindenburg Research, which accused the conglomerate of improper use of tax havens and stock manipulation, while also raising concerns over high debt levels.
The conglomerate has denied the accusations, saying the short-seller's allegation of stock manipulation has "no basis" and stems from an ignorance of Indian law.
In a video address on Thursday, Gautam Adani said the decision to scrap the share offering was made "to insulate the investors from potential losses."
"For me, the interest of my investors is paramount and everything else is secondary," he said.
Soon after the Lok Sabha proceeding started, Opposition MPs demanded a discussion on the Adani issue. The Congress and other parties gave adjournment motions but later, the presiding officer rejected them.
Rajya Sabha was adjourned seven minutes after the House assembled. As many as nine lawmakers had given notices under Rule 267 to suspend business to take up pressing issues. Chairman Jagdeep Dhankhar said the notices were not in order and did not allow the suspension of business. When the opposition protested, Dhankhar adjourned the House till 2pm.
BRS leader K Kesava Rao, Aam Aadmi Party's Sanjay Singh, Leader of Opposition Kharge were among the nine MPs who gave a notice to discuss the issue investment by the Life Insurance Corporation of India (LIC), other public sector banks, and financial institutions in companies losing market value, which was an unnamed reference to the Adani Group firms.
"People are losing crores of rupees by investing in LIC, SBI and other nationalised banks. We need to have a discussion in Parliament to know the truth," Kharge said.
Other leaders who had given notices were CPI(M)'s Elamaram Kareem, Shiv Sena MP (Uddhav Thackeray faction) Priyanka Chaturvedi, and CPI leader Binoy Viswam.
On Friday, too, the Opposition is expected to maintain the pressure on the government and demand a debate in both Houses of Parliament.
Trinamool's Rajya Sabha Parliamentary leader Derek O Brien tweeted: "Deafening silence of ED on India's biggest scam. Institutions like LIC, SBI lost more than 1 lakh crore. Will GoI use draconian PMLA now like they do to hound opposition & topple elected govts? #NaKhaungaNaKhaneDunga."
Congress chief whip Jairam Ramesh also referred to the issue in a tweet, writing: "The Modi government is clearly cornered on the Adani issue. She does not even want to allow this matter to be mentioned in the Parliament. This is the reason why both the Houses were adjourned within a few minutes after 2pm without giving a chance to the opposition to demand formation of JPC regarding this scam."
Country's largest lender SBI previously said its exposure to Adani group is fully secured by cash generating assets, in an attempt to assuage investor concerns.
Another public sector lender Bank of Baroda has said its total exposure to the embattled group stood at ₹7,000 crore, which is also fully secured.
LIC disclosed having an exposure of ₹36,474.78 crore to Adani group's debt and equity, and added that the amount is less than one per cent of its total investments, PTI reported on Thursday.
But fears over the fallout persist.
The Reserve Bank of India (RBI) has sought details about lenders' exposures to the Adani Group, unnamed officials told three news agencies, Reuters, PTI and Bloomberg.
RBI gets access to banks' large corporate borrowers on a regular basis as part of the central repository of information on large credits (CRILC) data base, PTI reported, quoting banking sources.
Several chief ministers, too, raised the issue on Thursday.
Chhattisgarh chief minister Bhupesh Baghel on Thursday claimed LIC and SBI continued to invest in the Adani group despite the shares of its companies crashed.
"When we used to speak against the BJP, we were dubbed as anti-Hindu and when against the Prime Minister and home minister, we were described as anti-national. Now the comments have come (from Adani group) that they (Hindenburg) are Bharat Virodhi (anti-India). They (Adani group) are saying it is an attack on Bharat and not on Adani. Who is Bharat? Is Adani ji Bharat?," asked Baghel.
West Bengal chief minister Mamata Banerjee alleged that the BJP was using people's money deposited with LIC and nationalised banks to benefit some of its party leaders. "The share market witnessed a massive crash after the Union budget was presented… Telephone calls were made to some people asking them to pump in several thousand crores of rupees," Banerjee said at a function in Purba Bardhaman district.