India stresses on 'flexibility' in climate goals for developing world
Yadav met COP26 president Alok Sharma, following which he said "differentiation" and "flexibility" should be at the core of decision-making at COP 26.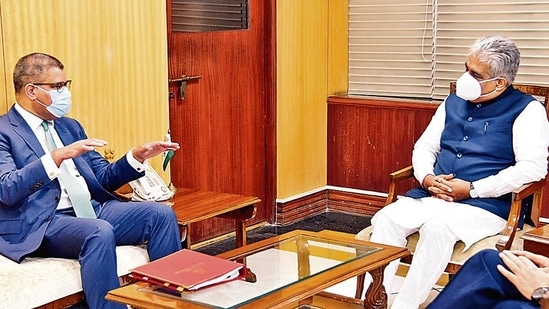 Updated on Aug 19, 2021 03:15 AM IST
, Hindustan Times, New Delhi
Jayashree Nandi
Union environment minister Bhupender Yadav on Wednesday said India will advocate principles of "differentiation" and operationalisation of "flexibility" provided in the Paris Agreement for developing countries, at the upcoming United Nations Climate Change conference (COP26) in November -- reiterating the country's position at a time when there are demands in some quarters for it to commit to so-called net-zero emissions.
Yadav met COP26 president Alok Sharma, following which he said "differentiation" and "flexibility" should be at the core of decision-making at COP 26.
"India believes that climate actions must be nationally determined and strongly advocates that the differentiation and operationalisation of flexibility provided in the United Nations Framework Convention on Climate Change (UNFCCC) and the Paris Agreement for developing countries should be at the core of decision-making," said Yadav, emphasising the importance of climate justice. Among other factors, climate justice incorporates an understanding of historical responsibility for the climate crisis and equality.
The Paris Agreement is a legally binding international treaty on climate crisis. The agreement, which has a goal of limiting global warming to well below 2°C, preferably to 1.5°C, compared to pre-industrial levels is guided by principles of equity and common but differentiated responsibilities, in the light of different national circumstances.
Article 13 of the agreement says its transparency framework shall provide flexibility to developing countries that need it in the light of their capacities. The transparency framework covers all substantive aspects of the Paris deal, including the tracking progress and achievement of nationally determined contributions (NDCs).
IPCC flagged earlier this month that the planet has a very short window to prevent catastrophic climate change. The 1.5°C global warming-threshold is likely to be breached in the next 10 to 20 years and by 2040 in all scenarios, it said in its report.
Sharma in an interview to HT on Monday said: "We want every country to plan for net-zero by the middle of the century."
But India has said earlier that pushing developing countries with extremely low per capita emissions to commit to a net-zero goal will undermine their right to develop. "We have noted the pledges made by some countries to achieve Net Zero GHG (green house gas) emissions or carbon neutrality by or around mid-century. However, this may not be adequate... Therefore, and keeping in view the legitimate need of developing countries to grow, we urge G20 countries to commit to bringing down per capita emissions to the global average by 2030," India said in its statement at a G20 ministerial meeting.
On Tuesday, Sharma met RK Singh, the power and renewable energy minister; PK Mishra, PM Narendra Modi's principal secretary; and Piyush Goyal, minister of commerce and industry and textiles. The power ministry on Wednesday said India has already retired 16,369 MW of inefficient coal fired power plants -- an issue Sharma raised during the meeting.
Sharma said on Wednesday: "I leave India hopeful. I've had a set of very constructive discussions here... In the context of India, it is worth pointing out that India is already on track to overachieve its current NDC..."
Experts said all countries must do more. "We should be proactive; push for hard action by 2030 by top polluters; not net-zero by 2050. Currently, countries are not on track. We must run the talk; no doubt our actions today are comparable with our contribution, but this is not enough. We can and must do more," said Sunita Narain, director general, Centre for Science and Environment.
"Every country's circumstance and capacities are different so flexibility is important from the perspective of both implementation and reporting, but overall, our actions collectively need to be circumscribed by the constraints set by science. We have a small window of opportunity, and everything to lose given our vulnerable population," said Apurba Mitra, head, Climate Policy, WRI India.
Topics
Close Story