Bring youngsters who have left home back to mainstream: Mehbooba
Oct 22, 2016 01:47 AM IST
At the Police Commemoration Day event in Srinagar, Mehbooba spoke at length on how teenagers were "used" as shields in the ongoing agitation.
Chief minister Mehbooba Mufti on Friday urged the police to try if youngsters who have left home to join militancy can be brought back as she promised justice in the deaths of three civilians in the ongoing Kashmir unrest.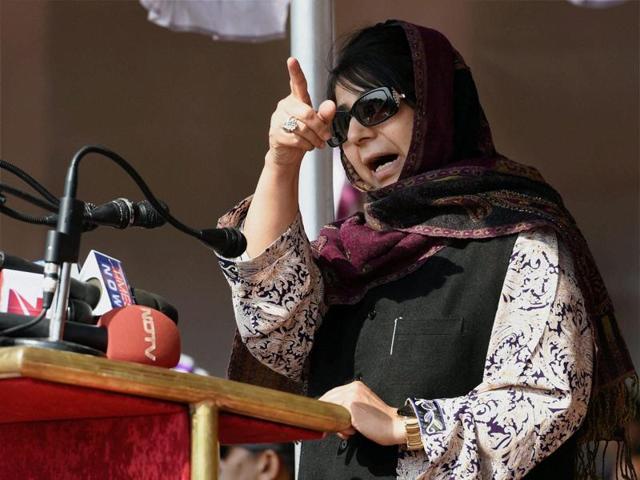 At the Police Commemoration Day event in Srinagar, Mehbooba spoke at length on how teenagers were "used" as shields in the ongoing agitation, adding that she wants to ban the much criticised pellet gun and at some point in the future revoke the controversial Armed Forces Special Powers Act (AFSPA).
"I request the police to try to bring them (the youth) back to their homes. Instead of their being killed in encounters, if it is possible to bring them back, make them a part of the mainstream, give them bats, balls and good education, instead of guns," she said.
Mehbooba mentioned three cases where it has been alleged that security forces fired even when there were no protests. Earlier this month, Junaid Ahmed (13) of Srinagar died of pellet injuries and his family had alleged that forces fired on him even when protests in the area had subsided.
Read | Address the rage Kashmir's youth are expressing
Mehbooba said: "Junaid had gone back after pelting stones. I have taken up his case with the home minister and want that there should be an inquiry into those involved (in his death)." Mehbooba has already demanded a "time-bound probe" into the death of the minor.
Mehbooba also reiterated that many Kashmiri children are manipulated to be protesters and being used as shields by "big people". "A 12-year-old child goes out and pelt stones. Does he know why he is doing that? There are some people behind them, some of whom we have identified and others too we will identify."
She said the police and security forces in Kashmir have to perform "parenting" along with their regular policing duty.
On banning pellet guns, a weapon responsible for killing, blinding and maiming Kashmiri youth since 2010, Mehbooba said: "I want to ban pellet guns. But it's only possible when you cooperate for that with us."
She urged the police that they should "tolerate" and refrain from using weapons as the protests will not continue "forever".
"If there is an injury on you, let it be. But if by taking an injury on ourselves we can save a youth's eyes or arms from pellet guns, then I think it will be your biggest sacrifice," she said.
Read | Our collective mistakes have pushed Kashmir youth to violence: Omar Abdullah
Similarly, she said that AFSPA can be revoked when there is peace in the region. "...But at some time we need to create such an atmosphere, by ending militancy and infiltration and creating a peaceful situation in J-K, that we can start repealing AFSPA gradually from here," she said.
Mehbooba pitched for good bilateral relation between India and Pakistan. She added that Pakistan, if it wishes well for Kashmir, must understand that whenever there are tensions between the two countries, Jammu-Kashmir suffers the worst.
Also read | Kashmir's disturbing new reality