Criminal identification bill clears Lower House
Updated on Apr 05, 2022 07:17 AM IST
The Criminal Procedure (Identification) Bill, 2022 seeks to update a British-era law to enable police to collect samples of a person's biometric details, such as fingerprints and iris scans, if they have been arrested, detained or placed under preventive detention on charges that attract a jail term of seven years or more.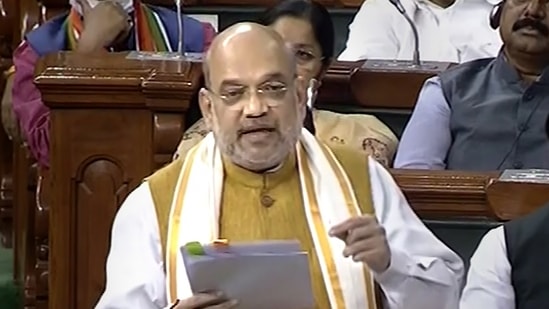 , Hindustan Times, New Delhi
Neeraj Chauhan and Zia Haq
The Lok Sabha passed on Monday a bill that accords sweeping powers to law enforcement agencies to collect data of convicted and accused people, after nearly five hours of fierce debate with the government saying the draft law was required to fight criminals and the Opposition expressing concern about possible rights abuses.
The Criminal Procedure (Identification) Bill, 2022 seeks to update a British-era law to enable police to collect samples of a person's biometric details, such as fingerprints and iris scans, if they have been arrested, detained or placed under preventive detention on charges that attract a jail term of seven years or more.
Also Read| Amit Shah sought MPs' suggestions on criminal bill, says BJP leader
The bill makes it mandatory for people to allow collection of finger impressions, palm print impressions, footprint impressions, photographs, iris and retina scans, physical and biological samples and their analysis, behavioural attributes, including signatures and handwriting, among others. The draft law also empowers the National Crime Records Bureau (NCRB) to collect, store and preserve these records for 75 years and share it with other agencies. Resistance or refusal to allow the collection of data is an offence.
"This bill's sole objective is to help consolidate evidence, to send a strong message to society…with time, investigation methods have to change," Union home minister Amit Shah said. He said that the bill was being brought with the sole aim of increasing conviction rates in the country. "I believe that justice delayed is justice denied. Rule of law can be established only when criminals are punished promptly."
The Opposition flagged several concerns — including of data storage, privacy violations, inadequate safeguards and chilling effect on free speech — but the government assured Opposition parties that it will not allow any abuse of power by law-enforcement agencies. Shah said the data will be stored on a centrally located "protected platform" maintained by NCRB and not accessible to individuals, leaving out any scope of its misuse.
He also assured Parliament that rules for the law will be framed after consulting top experts from around the world to make sure there aren't any privacy concerns.
"As a government which has been given the responsibility by the public to keep the country safe, we assure you there will not be any misuse of data. Specific results for any request sent by a police station/agency to match any criminal's details will be replied to through the central database. Any individual won't will not have access to it," Shah said, adding that the technology itself didn't allow the leakage of measurements collected under the law.
"There will be no narco-analysis and brain-mapping data collection under this law," he added.
Asserting that the law is necessary to empower law enforcement agencies to have modern technology and forensic capabilities so that they are two steps ahead of the criminals, Shah said the government wanted to make the criminal justice system "powerful".
"The government led by Prime Minister Narendra Modi believes in investigation which is done on the basis of data, information, forensic science and technology, not on the basis of third-degree torture," the home minister said in his nearly hour-long speech.
He took a dig at Opposition parties that expressed concern about possible human rights violations, saying some people worry more about the rights of rapists and looters than victims. "Those talking about human rights of criminals should also think about the crores of victims who are targeted by these criminals," he said.
"They will now say that it was set up to target minorities? There's no reference to any minority in the bill. Please don't see this bill in isolation but take holistic view of it. Technology will ensure that this law will not be misused," Shah added.
If it passes the Rajya Sabha, the bill will replace a 1920 law that allowed police to take measurements of people convicted of, or arrested for, offences punishable with at least one year rigorous imprisonment or those ordered to furnish bonds for his good behaviour under the law.
During the debate, the Opposition called for the bill to be referred to a parliamentary standing committee. They said that in the absence of a data protection law, sensitive personal data was vulnerable to breaches, and added that the bill appeared violative of the right to privacy.
Congress MP Manish Tewari led the opposition charge, saying: "The Bill would pave the way for India to become a surveillance state. The Bill violates Article 14, 19, 21 and 20(3) enshrined in the Constitution." The Bill is outside the "competence of this House", he said.
He raised doubts about the provision concerning people charged with crimes that carry punishments less than seven years — the bill says such people can refuse to give "biological samples" if the crime is not against a woman or child. To this, Shah responded by saying he would guarantee no misuse of the draft law by bringing in rules, and later an amendment, if required.
Tewari also raised questions over collection of biological samples for people detained under Section 107 of the CRPC, saying the section applied to a variety of situations, such as fights between women over water in rural India or parking space in a city like Delhi. "Should the law allow for measurements (biological samples) in such cases also?" Tewari asked.
"It will create a police and a surveillance state," said Congress MP Gaurav Gogoi.
Trinamool Congress leader Mahua Moitra said this was a rare Bill that saw the Opposition seek a division vote in the "introductory stage itself". The Bill was introduced by junior home minister Ajay Mishra 'Teni' on March 28 after the division saw 120votes in favour and 58 against.
"We would be signing off much on greater power, so we need greater checks. The bill is very broad, sweeping and includes people under preventive detention," she said.
Dayanidhi Maran of the Dravida Munnetra Kazhagam termed it a "terrorising law".
"What is the rush? I request the home minister not to rush. Your government is known to target the minorities. Any law you bring first targets minorities," he said.
Nationalist Congress Party leader Supriya Sule said the bill violated constitutional rights and the rights of prisoners. "I'm not just talking about this government; any government can misuse this data… from a terrorist to a petty thief, you are going to use the same law for everyone?" she said.
But the government defended the draft law.
Giving example of countries such as the US, the UK and Canada, Shah said, "All these countries have even stricter laws and collect all the data due to which they have high conviction rates." He said average conviction rate in the US, UK and Canada was 93%, 83% and 68%, respectively, while conviction rate in heinous crimes such as murders in India was just 44%.
"There is a need for balance in the country. Apart from individual human rights, we need to think about the rights of society at large. This bill has been brought for the safety of law-abiding citizens. Don't try to paint it otherwise. Having scientific data will empower the police and make criminal justice system powerful," Shah said. Shah said Prime Minister Narendra Modi had, in 2014, talked about smart policing — and the draft law was aimed at fulfilling that aim. He also added that people who were raising doubts about the bill indulged in politics of appeasement.
Close Story
Personalise your news feed. Follow trending topics