Growth slow, no chance of recession though: FM Nirmala Sitharaman
Updated on Jul 31, 2020 01:00 AM IST
Foreign direct investment (FDI) inflows from 2014-2019 rose to $283.9 billion under the NDA from $189.5 billion in the same period, And foreign exchange reserves rose to $412.6 billion from $304.2 billion.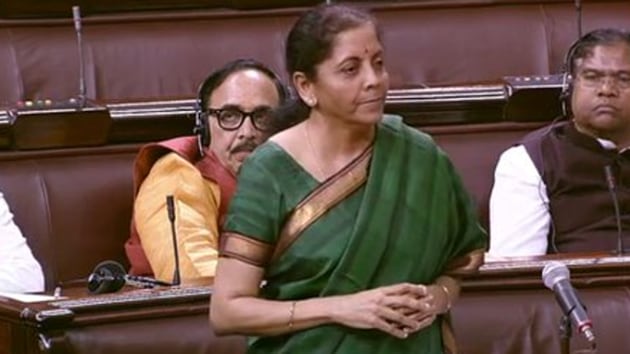 Hindustan Times, New Delhi |
HT Correspondents
Finance minister Nirmala Sitharaman acknowledged on Wednesday that growth had slowed, but ruled out the risk of the economy ever slipping into a recession, in a discussion on the state of the economy that prompted some unconvinced Opposition members to stage a noisy walkout from the Rajya Sabha.
"If you are looking at the economy with a discerning view, you see that growth may have come down but it is not a recession yet; it will not be a recession ever," Sitharaman said in her reply to the debate.
Gross domestic product (GDP) growth accelerated from 6.4% at the end of 2009-2014 to 7.5% in 2014-2019, Sitharaman said, comparing growth in the first term of the Bharatiya Janata Party (BJP)-led National Democratic Alliance (NDA) government and the second term of its predecessor, the Congress-led United Progressive Alliance (UPA).
Foreign direct investment (FDI) inflows from 2014-2019 rose to $283.9 billion under the NDA from $189.5 billion in the same period, And foreign exchange reserves rose to $412.6 billion from $304.2 billion.
Measures taken to boost economic growth are bearing fruit, Sitharaman said, adding that the slowdown was a cyclical phenomenon that would bottom out by March, in response to opposition members who warned that the economy was heading towards a crisis.
Watch | Growth may be down but it's not recession yet: Sitharaman in Rajya Sabha
Economic growth slipped to 5% in the three months ended June, the slowest pace in 25 quarters, and the fifth consecutive quarter that it decelerated, as households cut spending. Earlier this month, rating agency Moody's Investors Service cut India's economic growth forecast for the current year to 5.6% from the previous estimate of 5.8%, saying the slowdown was lasting longer than had been previously expected.
The government has responded to the slowdown with corporate tax cuts entailing a sacrifice of ₹1.45 lakh crore. The Reserve Bank of India (RBI) has cut key interest rates by 135 basis points this year to 5.15%, but inflation has remained low by historical standards and policymakers have barely moved the needle on growth. One basis point is one-hundredth of a percentage point.
In Wednesday's debate, which culminated in the walkout by members of the Congress, Trinamool Congress and the Aam Aadmi Party, Anand Sharma of the Congress said the current slowdown could not be labelled a cyclical phenomenon. "In the last few years, the economy has suffered. Industry has gone down and people do not even have money to buy day-to-day articles. Situation in the rural regions is even worse," he said.
"We are staring at a deep economic crisis, which is India specific," Sharma said.
He added that all four engines of economic activity — investments, industrial production, credit offtake and exports — were shutting down.
"The numbers are frightening. GDP growth has fallen and is lowest in seven years, investment rates have come down by seven percentage points, IIP (Index of Industrial Production) has fallen, manufacturing sector has contracted," Sharma said.
Derek O' Brien of the Trinamool Congress (TMC) said millions of jobs had been lost in various sectors, including auto and textiles. Countering Opposition charges, Aswini Vaishnaw (BJP) termed the current situation a cyclical slowdown.
"It is not a structural thing and will bottom out by March and it will be followed by strong growth," he said.
"My request through you to the Prime Minister is to take heed of this advice given to all of us by the former chief minister of Gujarat [Narendra Modi] in November, 2013: 'Economy is in trouble, youth want jobs; devote more time to economics not petty politics; please focus on the job at hand!' Self advice is the best advice," O'Brien added.
Sitharaman blamed the decline in GDP growth in the last two financial years to the lag effect of the so-called twin balance sheet crises — of stress on banks because of a pile-up of non-performing assets and heavily indebted corporate entities which she traced to lending during the UPA regime.
IIP has contracted for two consecutive months now. Annual contraction in IIP was 1.4% in August and 4.3% in September. For the quarter ending September, IIP has contracted by 0.4% on an annual basis.
All this has led to factory closures and job losses, Sharma said, adding that in automotive and textiles sectors alone over 2.5 million jobs had been lost till date.
Sharma said demonetisation and a hasty implementation of the "complex" Goods and Services Tax (GST) had taken its toll on the unorganised segment.
On GST, Sitharaman said out of the ₹6.63 lakh crore of net collections targeted in the year through March 31, 2020, ₹3.26 lakh crore had been collected during April to October. Month-wise GST collections have grown year-on-year, she said, adding that direct tax collections, at ₹6.86 lakh crore in April-October, too had increased 4.8%.
"GST is not doing badly. It could do better," she said.
The MPs belonging to the opposition parties walked out of the Upper House when Sitharaman was in the middle of her reply to a short duration discussion on the economic scenario in the country. Expressing his disappointment over the walkout, Rajya Sabha chairman M Venkaiah Naidu said it was in order for the members to stage a walkout if they were not satisfied after a minister had given the reply but it was not appropriate to obstruct the response. "You must have patience to hear the minister's reply. If you are not satisfied at the end of the reply, then you can say you are walking out," said Naidu.
Sitharaman said her reply was based on facts and the members who walked out did not have the "inner strength" to hear her out. "It is shocking… a short duration discussion is called and we agree. I hear everyone's speeches and when I want to reply they don't have the inner strength to hear me," said the minister, who went ahead with her reply after the walkout.
Outside Parliament, Communist Party of India (Marxist) [CPI(M)] general secretary Sitaram Yechury on Wednesday demanded in a tweet that the government bring out a white paper on the state of the economy.
Economic growth may have slowed for the sixth consecutive quarter in July-September to 4.7%, Fitch group firm India Ratings and Research said on Tuesday, as it lowered GDP growth forecast for the current fiscal for the fourth time.
"Stop appeasing the rich and giving tax concessions to the corporates. Instead use these monies for public investment to increase employment, people's purchasing power while building our much needed infrastructure," Yechury aid.
Meanwhile, Reuters said the RBI will cut interest rates in December for a sixth time this year, and again before July, citing economists who forecast those reductions would either marginally boost the economy or have no impact.
"Further rate cuts are likely to have a limited impact on the economy as cost of borrowing is not the pressing issue. The lack of risk appetite and fragile sentiment are holding back fresh investment in the economy," Sakshi Gupta, senior India economist at HDFC Bank, was quoted as saying.
The latest Reuters poll predicted the RBI would cut its repo rate for the sixth time in a row by 25 basis points to 4.90% at its December 3-5 meeting, according to median forecasts from more than 70 economists. That would mark the longest streak of consecutive rate cuts since the current interest rate framework was introduced nearly 20 years ago.
Close Story
Personalise your news feed. Follow trending topics