Height of apathy: ATM out of order for nine months, tourists face cash crunch in Himachal's Kaza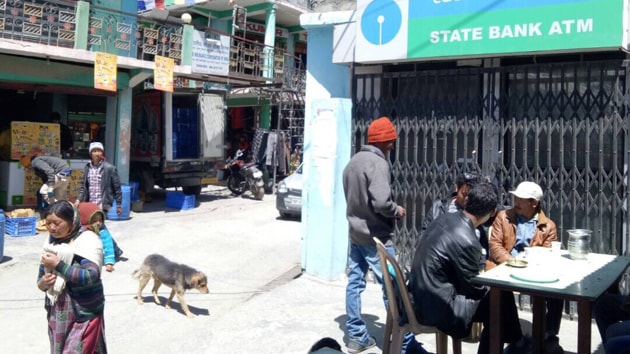 Updated on May 11, 2017 03:48 PM IST
At a time when the Narendra Modi government is going all out to promote digital India and online cash transactions, tourists visiting Kaza valley in the remote district of Himachal Pradesh's Lahaul and Spiti are facing inconvenience with the two ATMs located at a height of 11,980 feet defunct for months.
Local residents say they have been doing without the services of the two ATMs but tourists, who arrive between May and September, are finding it difficult to make do without the cash dispensers. The town's State Bank of India (SBI) ATM has been out of order for nine months, while the other belonging to Kangra Central Cooperative Bank has been closed for four months.
TOURISTS BEAR BRUNT
Dev Raj, posted at the state's tourist information centre here, says the two ATMs in Kaza rarely work. "Tourists from across the world have one grievance and that is the defunct ATM. Even I had to travel to Tabo and withdraw money from the ATM," he says.
Bank officials blame the harsh winter and tough topography for the poor maintenance of the two ATMs but have no explanation when told about the SBI ATM working at Tabo, which is 50 km from Kaza. Sometimes residents of this town with a population of about 2,000 go all the way to Tabo to withdraw cash.
"Tourists are worst hit. They manage by borrowing from local residents," says Lara Tsering, a tour operator. Local resident Tsering Bodh says shops in Kaza prefer cash but with ATMs shut, tourists find it difficult to make purchases.
Himanshu Chaudhary, a tourist from Delhi on his second visit to Kaza in a year, says, "This ATM was out of order last time too. I transferred money to the account of a travel agent and borrowed cash from him."
Michael, another tourist from Candida in Italy, who has been visiting Lahaul and Spiti regularly, says, "I thought the ATM issue would have been resolved by now. I'll need to borrow money from a friend again."
COLD TO BLAME?
SBI assistant general manager KL Mahajan said the bank's lone ATM at Kaza is an old one. He said the private company responsible for maintaining it has been told to replace it. "In winter, the belts of ATM machines get cracked due to low temperature. We will be replacing the Kaza ATM with a new one soon," Mahajan said.
Branch authorities said senior bank officials were seized of the matter.
Close Story