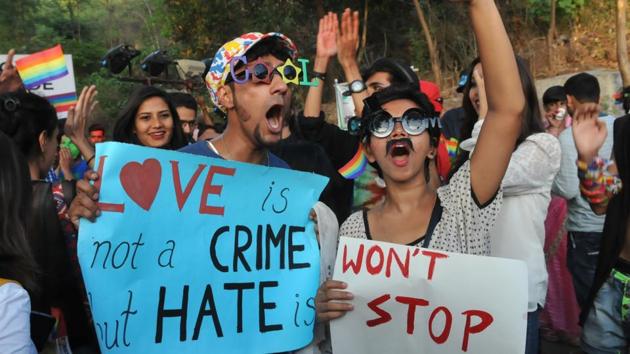 House panel led by BJP MP says no shame in being transgender
Recognising the rights of transgender community, a parliamentary panel has suggested exempting them from the ambit of laws criminalising homosexuality
UPDATED ON JUL 22, 2017 04:31 PM IST
A parliamentary panel led by a BJP lawmaker has recommended exemption of transgenders from the ambit of laws criminalising homosexuality, saying the draft Bill introduced in Lok Sabha last year does not guarantee the community's civil rights such as marriage and divorce.
The standing committee on social justice and empowerment, headed by seven-time Lok Sabha MP Ramesh Bais, tabled its report on the Transgender Persons (Protection of Rights) Bill, 2016, in the Lok Sabha on Friday.
The Bill seeks to define a transgender and end discrimination against the community, whose number was estimated at 6 lakh in the 2011 census.
The report comes at a time when the BJP-led NDA government is under pressure to decriminalise homosexuality and to recognise the rights of sexual minorities.
"Transgender persons remain at risk of criminalisation under Section 377. The Bill must at the very least recognise the rights of transgender persons to partnership and marriage," the report said.
It also called for a provision for penal action against abortions of intersex foetuses and forced surgical assignment of sex to intersex infants. LGBT rights activist say the bill dilutes several key provisions of previous versions of the bill and includes harmful new language that could undermine protections extended for transpersons in India.
"While there is no shame in being gay, lesbian, bisexual, transgender or intersex or even straight, there is a most certainly shame and dishonour in being a homophobe, a transphobe and a bigot," the report added.
The panel said the definition of transgender person will be the fulcrum of any legislation on transgender rights and welfare and the whole law would depend on the scope of this definition.
It said the proposed definition of a transgender person in the Bill is in stark contrast to global developments, where they have been granted the right to self determine and to seek benefits according to such identity.
"The committee conclude that a transgender person should have the option to choose either 'man', 'woman' or 'transgender' as well as have the right to choose any of the options independent of surgery/hormones," the report said.
"The committee would like to assure and remind all the members of transgender community that, 'A historic shift is underway, you are not alone in your struggle for the end of violence and discrimination. It is a shared struggle…, the report by the 31-member panel added.
In 2012. the Delhi high court abolished Section 377 of the Indian Penal Code (IPC), which criminalises homosexuality. But the HC ruling was overturned by the Supreme Court in 2013.
In 2015, Congress MP Shashi Tharoor's private member's Bill seeking to amend Section 377 was shot down in the Upper House. It was rejected for a second time last year.
Close