How music travels between cultures
Jan 12, 2023 12:46 PM IST
Just before the song Naatu Naatu begins, actors Ram Charan and NTR Jr ask, "Not flamenco, not salsa, my brother
Just before the song Naatu Naatu begins, actors Ram Charan and NTR Jr ask, "Not flamenco, not salsa, my brother. Do you know naatu?"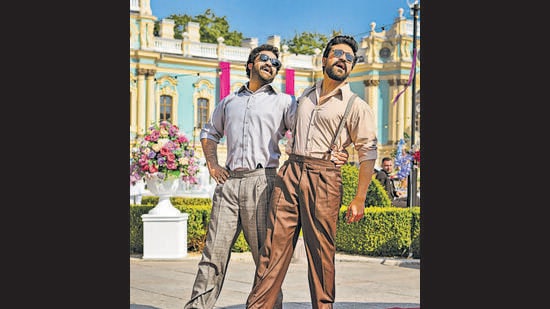 The song from SS Rajamouli's Telugu blockbuster RRR, with music by MM Keeravani and lyrics by Chandrabose, became the first tune from India to win a Golden Globe for Best Original Song (Motion Picture), on Wednesday, beating out songs by Rihanna, Lady Gaga, and Taylor Swift.
It's a good time to ask — What gives a song wings, pushes a musical culture into new territories?
Take that line: "Not flamenco, not salsa…".
Those two dance forms, from Spain and Latin America, respectively, were once relatively unknown in India. They are now the colloquial standard for fancy footwork. And signs of a world that hasn't just flattened, but is slowly revolving away from the dominance of the West.
For centuries, England set the standard for language, literature and assorted niceties; America for popular food and popular culture; France for haute cuisine and haute couture. It was through their award shows, fellowships and fashion weeks that cultural elements from the rest of the world entered the mainstream.
Then the world flattened further. New technology allowed cultures to access each other directly — through internet downloads, online communities, social media and streaming platforms, and a changing market economy (think of the juggernaut that is K-Pop). New languages and cultures began to find the spotlight on the world stage. BTS is a prime example. The South Korean band, launched in 2013, has a literal army of fans around the world, and holds a number of world records.
More significant is the story of how the South Korean film Parasite became the first non-English movie to win the Oscar for Best Picture in 2020. Streaming platforms had created an audience unperturbed by subtitles, an audience looking for tales that were authentic, surprising, resonant. These audiences flocked to watch Bong Joon-ho's modern-day urban horror story in theatres around the world, and the Academy would have been hard-pressed to ignore it. Picking it as Best Picture wasn't just a tip of the hat to innovative South Korean cinema, it was an admission that it was time to do things differently.
This year, RRR is setting screens on fire around the world. Naatu Naatu is also on the Oscar shortlist, the first Indian film song to make it that far too. So why RRR? In a world looking to be surprised and delighted, this film, with its pulsating plot lines and soundtrack, stunning visual effects and intricate attention to detail, offers an upgraded, updated version of Indian cinema.
"For many in the West, Indian music stands for Bollywood, which means song-and-dance routines. Though Naatu Naatu is in Telugu, it matches their idea of what Indian film music is about, but offers more," says Atul Churamani, managing director of Turnkey Music.
This is a very different vision of contemporary Indian culture from the 20th-century one, which was defined globally by masters such as Rabindranath Tagore, Satyajit Ray, and Ravi Shankar.
In film music, AR Rahman marked the start of the shift, when his celebratory Jai Ho and the rest of the soundtrack of Slumdog Millionaire (2008) won an Oscar, Grammy and Golden Globe. To India's film industries, though, there's no comparison. That was a foreign production directed by the Briton Danny Boyle. "If Naatu Naatu wins the Oscar, it will be a far bigger boost for Indian film music abroad," says Hindi and Telugu film musician Sandeep Chowta.
Rahman too, in a tweet posted on Wednesday, described the RRR victory as a "paradigm shift".
The Grammy Awards are next, set to be held on February 5. Among the other nominees with Indian roots here are sitar player Anoushka Shankar (daughter of Ravi Shankar), and the Berklee Indian Ensemble — an effort based in Boston, founded by an Indian (Annette Philip), with members from the global student community, all focused on studying Indian classical, folk and contemporary music during their time at the music school.
Will Naatu Naatu, RRR ,and the growing interest in a new generation of Indian cinema lead to sudden wave of interest in Indian film music globally, just as Ravi Shankar's popularity sparked worldwide interest in Indian classical music? Chowta says a lot more needs to be done — more wins, more experimentation. After all, it was the success of bossa nova (a style of samba) in Brazil that led to the fusion of bossa nova music with jazz, creating a global audience for Latin American music in the 1960s, and eventually contributing to the popularity of dance forms such as the salsa, samba and bachata.
But today is not about flamenco, nor salsa. Do you know naatu? As you read this, the answer to that question is changing around the world.
Enjoy unlimited digital access with HT Premium
Subscribe Now to continue reading