In anti-BJP, anti-Congress people's front, states won't be at the mercy of Centre, says K Kavitha
Kalvakuntla Kavitha says the National Front or the United Front were a coalition of parties formed purely with a political agenda of coming to power at the Centre, but this will not be the case with the federal front.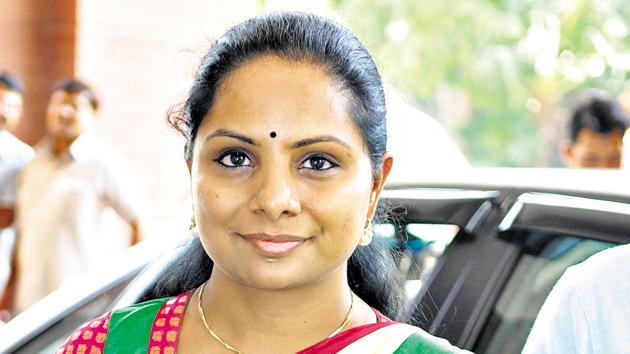 Published on May 06, 2018 07:58 AM IST
Telangana chief minister K Chandrasekhar Rao has met a number of opposition leaders in the past two months to put together what he calls a "people's front" for the 2019 general elections. It's the latest effort to forge an alternative to the two big national parties, the BJP and the Congress.
In an interview with Srinivasa Rao Apparasu, Rao's daughter and Nizamabad MP Kalvakuntla Kavitha said this alternative will be different and reflect the Constitution's federal spirit. Edited excerpts:
Why did KCR suddenly come up with the idea of floating a federal front after keeping silent for four years of coming to power?
No, this is not a sudden idea. It has been bothering him since the Telangana Rashtra Samithi (TRS) came out of the United Progressive Alliance (UPA) in 2006. He was upset by the Congress not delivering the promise of granting statehood to Telangana. After the formation of Telangana and the National Democratic Alliance (NDA) coming to power in 2014, there was no change and the Centre's domination over the states continued. We were the direct victims of this Centre's hegemony and had to be at its mercy on issues like division of IAS and IPS officers, and distribution of assets between Telangana and Andhra Pradesh. All these factors forced my father to initiate the move to form a federal front.
India has witnessed two such experiments of regional parties forming a third front, but they failed to sustain themselves. How different will this federal front be?
The National Front or the United Front were a coalition of parties formed purely with a political agenda – of coming to power at the Centre. This will not be the case with the federal front. It's agenda would be to address the basic needs of people in a true federal spirit, wherein the states would not have to look up to the Centre for everything. That is why KCR prefers to call it People's Front.
Can Telangana, which has just 17 MPs, take the lead in federal front? Will the bigger regional parties of the north allow a southern leader like KCR to set the agenda?
First of all, we don't believe in this talk of domination of north over south. Telangana has attracted the country's attention with its progress under KCR. It is the agenda that is more important for the federal front and not who is leading it.
Almost all parties KCR has consulted are pro-Congress, leading to talks the front is trying to isolate it, which will benefit the BJP.
No, we have just made a beginning. My father is going to hold talks with all regional parties, including those from NDA. He said it is going to be an anti-Congress, anti-BJP front. If the objective is to benefit Congress or BJP, why all this effort? We could as well join NDA or UPA.
Will KCR go to Delhi in next polls? If so, who will succeed him? You or your brother KT Rama Rao?
My father has not given any thought yet to whether or not he would go to Delhi in 2019. TRS is a structured and disciplined party. We all, including me and my brother, are its true soldiers.
Close Story
Personalise your news feed. Follow trending topics