India, Nepal officials meet to resolve border issues
The officials resolved to repair and re-erect the damaged and missing pillars meant for border demarcation.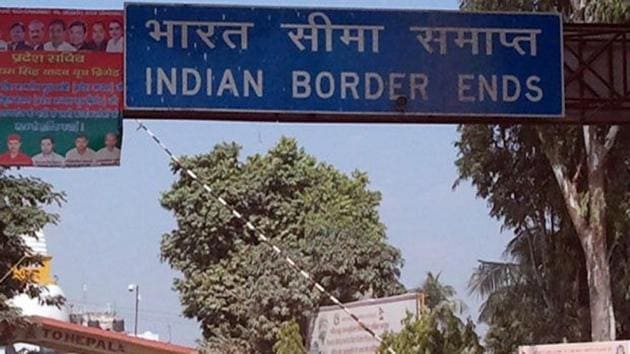 Published on Jan 14, 2018 03:26 PM IST
Hindustan Times, Motihari | By Sagar Suraj
, Motihari
In order to check frequent confrontations between people from either sides and prevent rapid encroachment of no-man's land, officials of India and Nepal led by their Field Survey Teams (FST) on Saturday met in Bihar's Motihari and amicably resolved to repair and re-erect the damaged and missing pillars meant for border demarcation.
Top administrative officials of Motihari, Bettiah and Sashastra Seema Bal (SSB) officials from the 55, 47, 44 and 20th battalions represented the Indian side while administrative officials from Bara and Parsa districts of Nepal attended the meeting.
Indian and Nepalese governments had erected around 8,000 pillars to demarcate the boundary along the 1,749-kilometer border. However, with passage of time, most of these pillars have been damaged or have gone missing. This has led to massive encroachments and infiltration of people into each others' territories with the no-man's land in several areas virtually disappearing.
Over the last few years, people from either sides, including forest officials, have indulged in skirmishes and confrontations over border disputes. Last year, people from Chhaudano village on Indian side and Kaliya village on Nepal side fought a pitched battle over border dispute, compelling senior officials from the two sides to intervene and separate them.
In West Champaran's Sushta area, the river has changed its course drastically over the last few years, washing away several demarcation pillars. In the process, it has disputed at least 6,000 acres of land along the forested stretch.
Forest officials of both the countries often trade accuse each other of trespassing into each other's territories.
At the Saturday meeting, officials of both countries resolved to end all contentions issues related to border through bilateral discussion and re-instate the pillars at their actual locations as suggested by the two survey teams.
Both sides also agreed to call a meeting of FST at Bara in Nepal soon to discuss further course of action and resolve any issues related to the survey.
The resolution signed by both the nations said that the pillar repairing, erection and the ongoing survey work would be intensified at many locations. If need be, the two survey teams would carry out a fresh survey for identification and fixing of missing pillars.
Saturday's meeting, however, did not raise the issue of equipping the pillars with satellite navigation.
During the third meeting of India-Nepal Boundary Working Group (BWG) and field survey team held in Birgunj in June 2016, Nepal's ministry of foreign affairs had announced that both the nations would enable their border pillars with GPS.
Motihari DM Raman Kumar, who had attended the meeting, said, directions have been issued to SSB, circle officers and sub-divisional officers to monitor the pillar construction works and initiate punitive action against people who have encroached no-man's land.
"The Nepali side has also agreed to initiate similar action," Kumar said.
Close Story