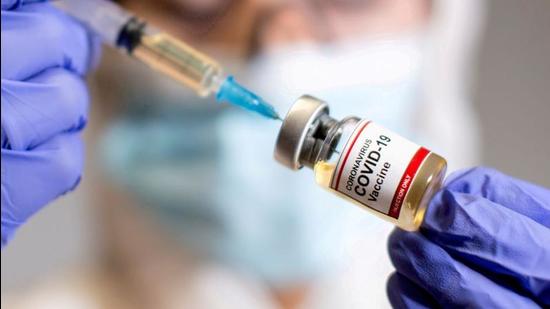 Approval for jabs cleared in other countries fast-tracked
The first 100 beneficiaries of such foreign vaccines shall be assessed for seven days for safety outcomes before further immunisation takes place within the country
UPDATED ON APR 14, 2021 01:20 AM IST
Coronavirus vaccines cleared for use in the US, the UK, the European Union, and Japan will get fast-track approval in India, the Union government said on Tuesday, potentially boosting the country's pandemic response through possible imports of Pfizer, Moderna and Johnson & Johnson (J&J) products.
Coming at a time when India records the world's biggest surge in infections, the decision removes a significant barrier for vaccine makers, although questions remain on whether these firms will bring their products, if they have the capacity to, if they will tie up with Indian companies, and how soon these shots will be available.
"Vaccines made outside of India, if approved by authorities in the US, UK, European Union, Japan, or under the WHO's emergency use listing, are approved for use in India. The condition of clinical trials won't apply, they can continue trials after approval," said VK Paul, member (Health) Niti Aayog.
"We hope, and we invite vaccines makers such as Pfizer, Moderna and J&J or any other vaccines that get approvals from these authorities to bring their products to India," he added at a government briefing.
Paul later told HT that as per emergency-use licensing norms, the distribution and procurement process will remain under government control as it is at present. "It is not a regular marketing licensure, it is EUA and all vaccines are governed by EUA laws where government controls procurement and distribution to ensure those who need the vaccine get it on priority. All countries are procuring and distributing Covid-19 vaccines under EUA currently," he said, adding that since it will be under EUA, the government will monitor side-effects.
Private hospitals and clinics are allowed to administer the vaccines but the process is monitored by the government, which uses the Co-WIN platform to track the factory-to-injection process.
Paul said the move was meant to encourage these companies to use India's pharma companies for production and "fill and finish" deals, and said that while there was no discussion yet on pricing, improved supplies in the long run will help bring prices down.
Experts welcomed the government's decision but said it remains to be seen whether the current procurement and distribution model will need to be tweaked, and if continuing with it will yield any gains.
"If there are more vaccines available in market, people will have a choice and there will be healthy competition. How they get it in market will either be by importing these vaccines, or by these companies going in for a joint venture locally, which seems unlikely. It should not be the responsibility of the government to give these vaccines free; they may put a price tag to it but people should have a choice. At this point we don't know how they will go about it," said Dr SK Sarin, director, Institute of Liver and Biliary Sciences.
Union health secretary Rajesh Bhushan, at the ministry briefing, described the step as a "significant streamlining and fast-tracking of the regulatory system" which now "opens doors for import of bulk or finished vaccines or import leading to fill and finish".
In a statement issued earlier in the day, the Union health ministry said the step was recommended by the National Expert Group on Vaccine Administration for Covid-19 (NEGVAC) after a meeting on April 11.
The accelerated approval will apply to doses authorised by US's food and drug administration (FDA), UK's Medicines and Health care products Regulatory Agency (MHRA), European Medicines Agency (EMA), Pharmaceuticals and Medical Devices Agency (PMDA) Japan, or by the World Health Organization.
Instead of requiring them to conduct a "bridging trial" prior to seeking approval, the government will allow them to roll out these coronavirus vaccines and conduct "parallel bridging clinical trial" after they get the authorisation. "Further, the first 100 beneficiaries of such foreign vaccines shall be assessed for seven days for safety outcomes before it is rolled out for further immunisation programme within the country," the statement said.
At present, there are vaccines by three companies that are approved by regulators identified by the government and are yet to be authorised in India: Pfizer-BioNTech, Moderna and J&J. A fourth vaccine, made by Novavax, has made progress in clinical trials and sought approval from several of these regulators.
Among these, two companies already have tied up with Indian companies for production — Novavax and J&J. Novavax has licensed Serum Institute of India (SII) to produce a billion doses and the Pune-based company is also carrying out bridging trials in the country. Similarly, Hyderabad's Biological E has a deal to produce 600 million doses of the J&J vaccine and was recently poised to begin bridging studies.
The Pfizer-BioNTech and Moderna vaccines were among the first to be approved anywhere in the world last year. Both have an efficacy rate of over 95% and use mRNA technology, which has emerged as a breakthrough platform for coronavirus vaccines.
India, the world's biggest maker of vaccines, has so far administered a little over 108 million doses of Covishield and Covaxin – the first two shots to be approved in the country. A third, Sputnik V made by Russia's Gamaleya Institute, was approved formally on Tuesday and doses are expected to be imported at first before a group of five Indian companies that have contracts to begin churning out doses. Dr Reddy's has the rights for distribution of the first 100 million doses in India, which will be a combination of Indian and Russian made vaccines, the Russian Direct Investment Fund (RDIF) said on Tuesday.
"We appreciate the decision of India's regulatory bodies to grant authorisation for Sputnik V. Approval of the vaccine is a major milestone as Russia and India have been developing an extensive cooperation on clinical trials of Sputnik V in India and its local production," said RDIF CEO Kirill Dmitriev. Since March, the developers have stitched up more agreements to ramp up the production of the vaccine in India.
Though India was the fastest among all countries to vaccine 100 million people, concerns have been mounting in some states about whether there are adequate supplies. According to production capacities declared by SII (which makes Covishield – the Indian version of the Oxford-AstraZeneca dose) and Bharat Biotech, the average production capacity at present comes to about 2.5 million doses a day.
Over the past week, India has administered 4.1 million doses a day on average.
Close