Jaya's niece will work with OPS 'in future', Sasikala tries to put up brave front after conviction
Hindustan Times, Chennai/New Delhi |
KV Lakshmana and Bhadra Sinha
Feb 15, 2017 10:22 AM IST
Caretaker Tamil Nadu chief minister O Panneerselvam was buoyed late on Tuesday as former CM J Jayalalithaa's niece Deepa Jayakumar threw her weight behind him in a bruising fight for control of the ruling AIADMK.
Caretaker Tamil Nadu chief minister O Panneerselvam was buoyed late on Tuesday as former CM J Jayalalithaa's niece Deepa Jayakumar threw her weight behind him in a bruising fight for control of the ruling AIADMK.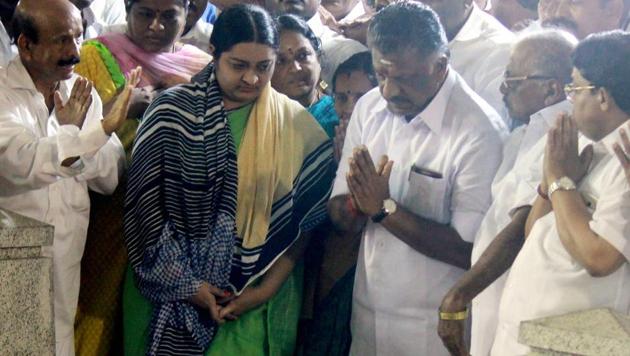 Jayakumar accompanied Panneerselvam and hundreds of supporters on a late-night march to Jayalalithaa's memorial in Chennai. "I and OPS (Panneerselvam) will act as the two hands of the AIADMK. We will work together in future," she was quoted as saying by television channels.
Read more | Jayalalithaa's niece Deepa Jayakumar slams Sasikala, says she is not fit to rule
Miles away, beleaguered AIADMK chief VK Sasikala attempted to put up a brave front hours after her conviction in a corruption case that effectively knocked her out of reckoning for the chief minister's chair.
"I'm sure we'll get the invitation (to form government) as soon as possible because we remained quiet," an emotional Sasikala told reporters, adding that "no force can separate me from AIADMK; no matter where I'll be, I'll always think about party".
Sasikala's conviction means the former video cassettes saleswoman will neither be able to hold a public office nor contest elections for 10 years. Found guilty of amassing wealth disproportionate to her income, the court also fined Sasikala Rs 10 crore and ordered her property confiscated.
The verdict came on a two-decade-old case that also involved Sasikala's mentor and chief minister J Jayalalithaa whose death in December sparked a high-octane power struggle in India's second-richest state. The court said it also found incriminating evidence against Jayalalithaa but abated proceedings against her.
"The flow of money from one account to the other proves existence of active conspiracy to launder the ill-gotten wealth of Jayalalithaa for purchasing properties in the names of the firms," the court said in a 500-page plus judgement.
Sasikala, 61, who was not present at the sentencing in New Delhi, was asked to immediately surrender to the police but her lawyers said they would ask for a four-week window on health grounds. Her supporters said the court order hadn't reached her till late evening, when she returned to her Chennai home from the resort.
Sasikala – a confidante of Jayalalithaa for more than three decades – had been anointed the late CM's successor by the AIADMK. She was due to be sworn in last week but a revolt by the state's caretaker chief minister O Panneerselvam disrupted those plans and the two have been locked in a bitter battle ever since.
As news of the conviction flashed on television channels, sources said Sasikala broke down briefly before regaining her composure and nominating loyalist and senior AIADMK leader Edappadi K Palaniswami as party general secretary to checkmate Panneerselvam.
Gloom descended on a seafront resort on the outskirts of Chennai where Sasikala was camped with a group of state lawmakers reportedly supporting her in her bid to become the chief minister. More than 200 anti-riot police were deployed at luxurious resort to preclude trouble. At her Poes Gardens residence, hordes of dejected supporters quietly dispersed as state police withdrew security cover.
Read more | Suspense over next Tamil Nadu chief minister continues as competing AIADMK camps meet governor
In contrast, supporters of Panneerselvam broke into celebrations, bursting crackers and distributing sweets outside his residence in Chennai.
Minutes after taking charge, Palaniswami, a four-time MLA from Salem and minister for highways and ports, moved to expel Panneerselvam from the AIADMK. Scores of other "rebels" including minister K Pandiarajan and senior leader C Ponnaiyan – both of whom have backed the caretaker CM – were also thrown out of the party.
But Panneerselvam was unfazed, saying the soul of Amma – as Jayalalithaa was popularly known – would guide them. "We will form a government without the help of any other party."
Late in the evening, he was buoyed by backing from Deepa Jayakumar, Jayalalithaa's niece, who accompanied Panneerselvam and hundreds of supporters on a march to the late CM's memorial. "Sasikala deserves to go to jail," she told reporters.
Opposition parties hailed the verdict as "historical".
DMK working president MK Stalin said, "Justice has been restored. Now the Tamil Nadu Governor should take steps to have a stable government in the state."
BJP leader Subramanian Swamy, who's 1996 petition filed in a Chennai sessions court set the case off in motion, said "I was expecting the conviction. I don't think she can escape the four years sentence.
Sasikala and Jayalalithaa were jointly accused of owning several bungalows, luxury cars, tea estates, eight tons of silver, nearly 30 kilogrammes (66 pounds) of gold and thousands of saris which could be not accounted for through their salaries.
In 2014, both women were sentenced to jail for corruption by a lower court but were acquitted on appeal by the Karnataka high court after serving a brief period behind bars.
But on Tuesday, the SC set aside the high court verdict. It also handed a four-year prison term to Sasikala's nephew and niece who had earlier been acquitted of any wrongdoing by the lower court.