SC finds Sasikala guilty in DA case, AIADMK expels Panneerselvam, 19 others
Hindustan Times, New Delhi/Chennai |
Bhadra Sinha and KV Lakshmana
Feb 14, 2017 02:55 PM IST
The Supreme Court on Tuesday found 61-year-old VK Sasikala and two others guilty in a 21-year-old corruption case, asking her to surrender immediately.
The Supreme Court on Tuesday sent VK Sasikala to jail for four years for corruption, a verdict that dashed the 61-year-old politician's hopes of becoming the state chief minister.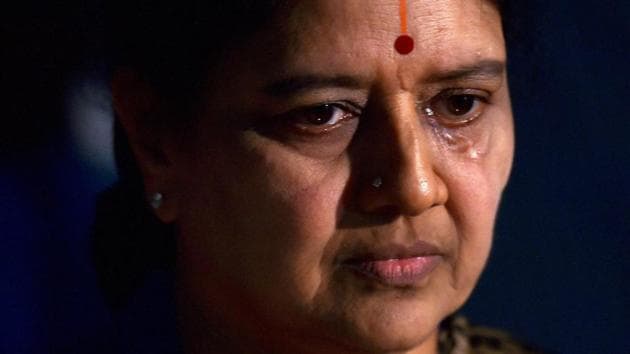 The court also barred the former video cassettes saleswoman from holding public office or contesting elections for 10 years after holding her guilty of amassing wealth disproportionate to her known income. She was also fined Rs10 crore.
The verdict came on a 21-year-old case that also involved Sasikala's mentor and chief minister J Jayalalithaa whose death in December last year sparked a power tussle in the state. Sasikala, who was not present at the sentencing in New Delhi, was asked to immediately surrender to the police to begin serving her sentence.
The news sent shockwaves among her fans back in Tamil Nadu. More than 200 anti-riot police were deployed at a seafront resort where Sasikala was camped with a group of state lawmakers she said supported her in her bid to become the state chief minister.
Sasikala had been anointed Jayalalithaa's successor by the state's dominant All India Anna Dravida Munnetra Kazhagam (AIADMK). The party general secretary was due to be sworn in last week but a revolt by the state's caretaker chief minister O Panneerselvam disrupted those plans and the two have been locked in a bitter battle ever since.
Knocked out of the turf war by the SC verdict, Sasikala nominated loyalist and senior AIADMK leader Edappadi K Palaniswami as party general secretary to checkmate Panneerselvam.
Minutes after taking charge, Palaniswami, a four-time MLA from Salem and minister for highways and ports, moved to expel Panneerselvam from the AIADMK.
Nineteen others, including school education minister K. Pandiarajan and former ministers C. Ponnaiyan, P.H. Pandian, Natham R. Viswanathan, K.P. Munusamy and P. Mohan, were also expelled on charges of acting against the party's policies and principles.
Shortly before AIADMK's move, Panneerselvam harped on unity and said: "Let us forget the differences, temporary fight and come together to defeat the Opposition waiting to split the AIADMK."
And after his expulsion, he said: "Amma's atma is still around us and will guide us on the right path...Amma's good governance and people welfare programmes will continue and follow the path of Amma."
He told people to stay calm and said: "We will form a government without the help of any other party."
Opposition parties hailed the verdict as "historical".
DMK working president MK Stalin said, "Justice has been restored. Now the Tamil Nadu Governor should take steps to have a stable government in the state."
"It is a historical judgement. Justice has been delivered against corruption after 20 years of struggle," Tamil Nadu Congress spokesperson Gopanna told IANS.
BJP leader Subramanian Swamy, who's 1996 petition filed in a Chennai sessions court set the case off in motion, said "I was expecting the conviction. I don't think she can escape the four years sentence.
"I have no comment on the judgement. It is a SC judgement and we are all bound by the judgement," said Congress leader P Chidamabaram.
Sasikala and Jayalalithaa were jointly accused of owning several bungalows, luxury cars, tea estates, eight tons of silver, nearly 30 kilogrammes (66 pounds) of gold and thousands of saris which could be not accounted for through their salaries.
Sasikala was running a video parlour and Jayalalithaa was a budding politician when the two met, which marked the beginning of a decades-long friendship dogged by corruption scandals.
She was briefly expelled from the AIADMK by Jayalalithaa over allegations that her family was misusing the leader's name, but she was allowed back in after publicly distancing herself from her husband.
In 2014, both women were sentenced to jail for corruption but were acquitted on appeal after serving a brief period behind bars.
The court also handed a four-year prison term to Sasikala's nephew and niece who had earlier been acquitted of any wrongdoing by a lower court.
.
(Inputs from agencies)
For live updates on the developments in Tamil Nadu, click here