Jayalalithaa's niece Deepa Jayakumar slams Sasikala, says she is not fit to rule
Hindustan Times, Chennai |
K V Lakshmana
Feb 14, 2017 07:14 AM IST
Deepa Jayakumar, niece of late chief minister J Jayalalithaa, on Tuesday slammed elevation of Sasikala as the chief minister saying she was neither unfit for the post nor was she a peoples' choice. 
The niece of former Tamil Nadu chief minister J Jayalalithaa, Deepa Jayakumar, on Tuesday slammed the elevation of VK Sasikala as the CM, saying she was not fit for the post and is not the people's choice.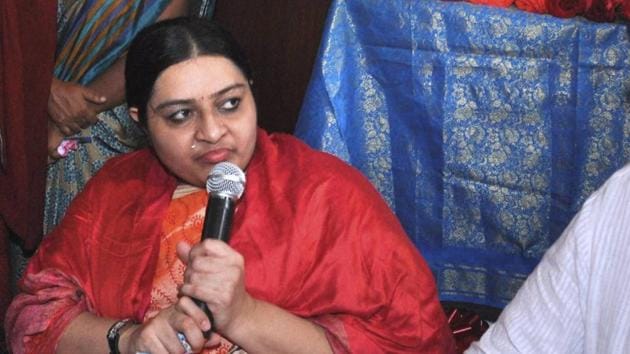 Jayakumar's comments came hours after sidelined senior AIADMK leaders launched a broadside against Sasikala, questioning the legality of her election as the AIADMK's interim general secretary and subsequent election as leader of the legislative party, a charge rubbished by the party.
Former assembly speaker PH Pandian and his son Manoj Pandian, a former Rajya Sabha member, also charged that Jayalalithaa could have been murdered and demanded a probe into her hospitalisation and death.
Jayakumar said the people of Tamil Nadu do not want Sasikala adding that she was getting that feedback from the hundreds of party cadres and common people who met her every day.
"A leader should not be forced on people like it is being done now," she said in response to a question about Sasikala's elevation at a press conference.
She said a probe was needed into the circumstances leading to the hospitalisation and treatment given to her aunt and that the attempt of the doctors to clarify the situation only raised more questions.
"Even the timing of the press conference, in the context of the political changes taking place in Tamil Nadu, needed to be probed," she said.
She questioned as to why the doctors spoke two months after her aunt's death and not at the time when people were desperate for information about Jayalalithaa while she was battling for her life in the hospital.
She also asked which relative gave the permission for the medical procedures to be conducted on her aunt, saying none of the doctors had contacted her.
"Hospital clarifications are not enough," Deepa said and reiterated her earlier demand for a probe into the timing as well and the circumstances that led to the death of her aunt.
The 42-year-old had hinted at a conspiracy surrounding Jayalalithaa's death in December, days after she was barred from entering Apollo hospital where the former chief minister was admitted.
She, however, distanced herself from rebel AIADMK leaders saying she is "not in touch with anyone from AIADMK" and that her own views on the subject were well known.
In response to a question, Jayakumar said she would float a political party on February 24, the birth anniversary of her aunt.
"Yes I will enter politics, fight elections," she said.
Jayakumar is the daughter of Jayalalithaa's brother and was relatively unknown until last year when she made headlines after not being allowed to enter Apollo Hospital, where her aunt was being treated.