Kashmir violence: Death toll reaches 22, restrictions continue for 3rd day
Updated on Jul 11, 2016 02:51 PM IST
More than 250 people have been injured in the violence and the situation continues to be tense across the valley.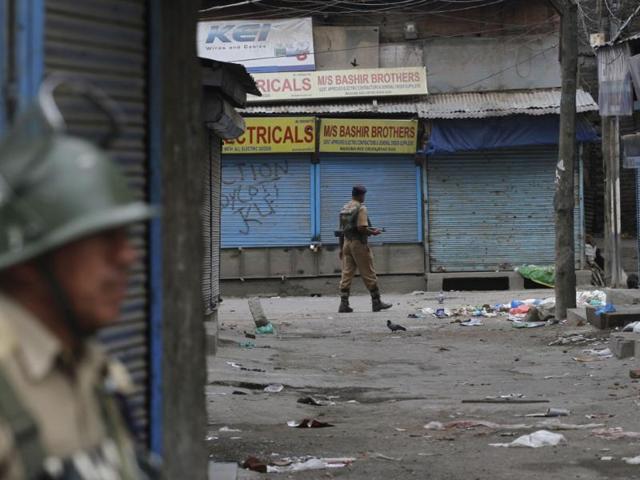 At least 22 people have died in clashes between protesters and security forces in Kashmir in three days after Hizbul Mujahideen militant Burhan Wani was killed by security forces in an encounter on Friday, officials said on Monday.
Reports said a girl identified as Yasmeen, who sustained bullet injuries, succumbed at SMHS Hospital late on Sunday night. She belonged to Damhal Hanjipora in Kulgam district in south Kashmir.
A 24-year-old man Shabir Ahmad from Srinagar was also killed late on Sunday evening.
Twelve men died on Saturday as the violence spiralled, five others succumbed to injuries between Saturday night and Sunday morning. Four others were killed in firing incidents by forces on Sunday. One cop was killed after a violent mob pushed him into a gushing tributary of the Jhelum.
More than 250 people have been injured in the violence and the situation continues to be tense across the valley.
There were sporadic clashes in parts of Srinagar, north and south Kashmir on Monday. A police post was torched by mob in Sopore.
A popular social media-savvy militant 21-year-old Wani and two other militants were killed on Friday when security forces cornered them in the Kokernag area of Anantnag. A schoolteacher's son, Wani apparently influenced hundreds of Kashmiri youth to join militancy in the past few years through slick social media posts and videos.
Mobile internet services have been suspended in four districts of south Kashmir since Friday evening as violent protests erupted following Wani's death.
Read | The Kashmir manifesto: Delhi's policy playbook in the Valley
Case filed for spreading false rumours
Police have registered a case against two people for spreading false news on social media. Kothibagh police station registered a case against Ashok Koul for spreading false information about the killing of two Kashmiri Pandits in the valley.
"According to sources, two Pandits killed in Kashmir at some village… Many Hindu Houses Burnt… Internet Services Suspended," Koul wrote on his Facebook page.
In a subsequent post, Koul tendered an apology saying he was given false information by some friend from Kashmir.
Police said they have obtained the screenshots and started investigations.
Watch | Curfew continues in Kashmir
They are also investigating another case where a man, Vinod Pandit, tweeted that he was held hostage in a temple in Anantnag which was being attacked by a mob.
Police officials said the post could not have been from Anantnag as the internet and even mobile services were completely blocked in the area and no such attack had taken place.
The annual Amarnath Yatra pilgrimage remained suspended and no pilgrims were allowed to proceed from Jammu. Around 9,000 yatris, who reached the Baltal and Chandanwari base camps in Kashmir, however, were allowed to proceed for the pilgrimage on Sunday.
Curfew continues
Curfew-like restrictions continued to be in place in many parts of the valley including parts of Srinagar city, where the first death in the clashes occurred on Sunday evening.
Authorities have strengthened the presence of security forces in vulnerable areas of the city and elsewhere in the valley to contain the protests, a police official said. He said the restrictions were being enforced strictly on Monday to avoid any further loss of life or damage to property.
Life remained paralysed due to the strike called by separatists groups. Most of the separatist leaders, including Syed Ali Shah Geelani, Mirwaiz Umer Farooq and Mohammad Yasin Malik, are either in custody or under house arrest.
Shops, private offices, business establishments and petrol pumps were shut, while government offices and banks witnessed thin attendance, officials said.
Public transport was completely off the roads but private cars and auto-rickshaws were seen plying at few places in the areas where there were no restrictions, they said.
Educational institutions in the valley were closed on account of the ongoing summer vacations, while Central University of Kashmir (CUK), Islamic University of Science and Technology (IUST) and Jammu and Kashmir Board of School Education (JKBOSE) have postponed the examinations due to the prevailing situation.
The Jammu and Kashmir government held a special cabinet meeting to review the situation on Sunday. The cabinet, according to government spokesperson Nayeem Akhtar, raised serious concerns about the deaths over the past two days.
The government sought cooperation from political parties as well as separatists to ensure peace.
(With inputs from PTI)
Personalise your news feed. Follow trending topics