LeT, not Jaish-e-Mohammad, involved in Uri terror attack: NIA report
Mar 22, 2017 07:09 AM IST
The NIA's conclusion that the LeT carried out the Uri attack is based on the coded matrix sheets recovered from the neutralised attackers.
The March 8 National Investigation Agency report absolving two Pakistani teenagers of involvement in the Uri terror attack of September 18 last year says it was the Lashkar-e-Taiba (LeT)—and not the Jaish-e-Mohammad as claimed by the Army—that did it. The attack had claimed lives of 19 soldiers of 12 Infantry Brigade.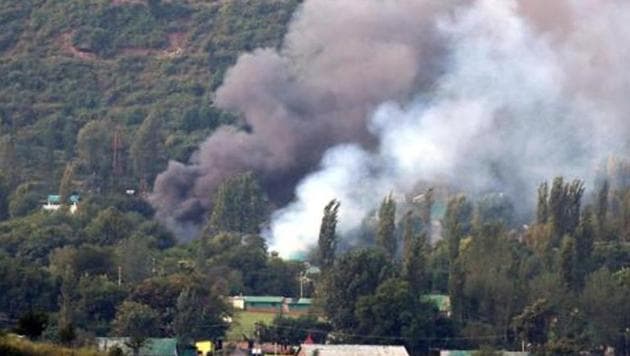 The NIA report one also names Abu Siraqa alias Mohammed Anas of Gujranwala as one of the possible attackers. The closure report filed in NIA court at Jammu led to the release of Faisal Hussain Awan and Ahsaan Khursheed, arrested after having strayed across the Line of Control (LoC) on September 21.
According to the report, accessed by Hindustan Times, the NIA's conclusion that the LeT carried out the Uri attack is based on the coded matrix sheets recovered from the neutralised attackers. Matrix sheets recovered from LeT militants like Bahadur Ali who was arrested in July last year consist of 17 columns and 21 rows or a total of 357 boxes. The JeM matrix sheet, according to the report, contains 24 columns and 28 rows or a total of 672 boxes. The shoes of the Uri terrorists also matched those recovered in Handwara attack case of June last year and those that Bahadur Ali was wearing.
North block officials said that the two teenagers were handed over to Pakistan on March 10 in exchange for 37 Rashtriya Rifles trooper Chandu Babulal Chohan, who had crossed the LoC in Kashmir hours after the September 29 surgical strike. The trooper was handed over to India through Wagah border on January 21, 2017. The entire negotiations were handled at the level of Director General Military Operations of India and Pakistan.
The NIA report on the basis of recovery of data in two GPS sets used by the Uri attackers concludes that the four terrorists were launched from "Sankh" post of Pakistan Army, used as a launching pad for LeT cadres in the past. The terrorists crossed the Salamabad Nala, which bisects the ridge on which the Pakistani post is sited and the ridge leading towards the rear of brigade headquarters in the Uri sector.
While the identity of three Uri attackers is still not confirmed, the NIA report points finger at one Abu Siraqa alias Mohammed Anas, whose image was printed in Jamaat-ud-Dawa posters in Gujranwala town of Pakistan after the terror strike. The report states that the image in the poster matched the dead terrorist, whose funeral in absentia was to be conducted at Sadabahar Nursery, Girijakh, Gujranwala in the presence of LeT emir Hafeez Saeed. After India raised this issue with Islamabad, the ceremony was inexplicably called off.
The two teenagers were returned to Pakistan as the NIA established their presence in Pakistan-occupied Kashmir on September 19, 2016 through data recovered from their cellphones.