Kashmir restrictions will go if Pakistan behaves, says NSA Ajit Doval
Ajit Doval was quoted by agencies to have said that the restrictions have been eased to a great extent as only 10 of the 199 police districts in Kashmir, Jammu and Ladakh were under prohibitory orders, while land-line telephones have been restored 100 per cent in all three areas.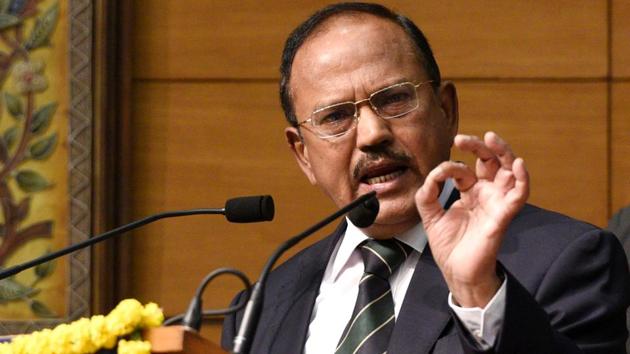 Updated on Sep 07, 2019 06:05 PM IST
National Security Adviser (NSA) Ajit Doval on Saturday rejected suggestions of widespread opposition to abrogation of Article 370 in Jammu and Kashmir and said the majority in the militancy hit region saw the removal of the special status as an opportunity for fast-paced development and jobs, according to agency reports. Doval also said the contentious provision of the Constitution (Article 370) had only helped Pakistan foment trouble across the LoC along with J&K politicians, who made a fortune from it.
"I am fully convinced that a majority of Kashmiris totally support the abrogation of Article 370," Doval told reporters according to news agency ANI, and added that Article 370 "was not a special status but special discrimination. With its abrogation we have brought Kashmiris on par with Indians." ANI quoted Doval.
The NSA argued that people in Jammu and Kashmir will now benefit from about 106 laws, including the one guaranteeing, the Right to Education.
"There were many laws for modern and upcoming societies which were denied to people of J&K, right to education,right to property were denied, 106 such laws were taking protection of article 370 before August 5," ANI quoted Doval as saying.
NSA said that restrictions had been eased gradually and were limited to only ten police station areas in the valley and hundred per cent of landline phones had been restored.
The NSA downplayed the protests against the Article's repeal as the voice of a "vocal minority". "There is a vocal minority that opposes it. It appears to people that it is the voice of the people. That is not necessarily true," PTI quoted Doval.
Also read: The Modi government must allow politics to return to Kashmir, writes Barkha Dutt
Doval is also said to have rubbished the alleged atrocities by the armed forces and said that the Army was fighting terrorists in the region and was not responsible for law and order duties which were being handled by the J&K police and central paramilitary forces.
"Indian army is there to fight terrorists," said Doval, according to PTI.
According to ANI, he also said that the detention of political leaders in Jammu and Kashmir was done as per the law to help maintain law and order as terrorists could have exploited the situation if political gatherings were allowed.
He added that no political leader had been "charged with criminal offence or sedition" and that their preventive custody will end as soon "environment is created for democracy to function", which, he said may happen soon, according to ANI.
Suggesting that situation in J&K had been handled well, Doval said only one incident had been reported on August 6, in which one young boy succumbed, not due to any bullet injury but to "some hard object" that hit him, "In so many days, just one incident reported," said ANI, quoting the NSA.
Doval is reported by agencies to have further elaborated on Pakistan's role in instigating trouble in the valley through "false and black propaganda" that was being lapped up by "some uninformed people" as public opinion.
He said the restrictions would go quickly if Pakistan behaved and stopped using terrorists to intimidate & infiltrate.

ALSO READ: 'Should we send you bangles': NSA Doval on intercepted messages from Pak
Close Story