Pak navy claims it 'blocked' Indian submarine, New Delhi says it's a lie
The Pakistani navy detected an Indian submarine off the Pakistani coast and prevented it from entering its waters, it said in a statement on Friday, as tension between the nuclear-armed rivals simmers.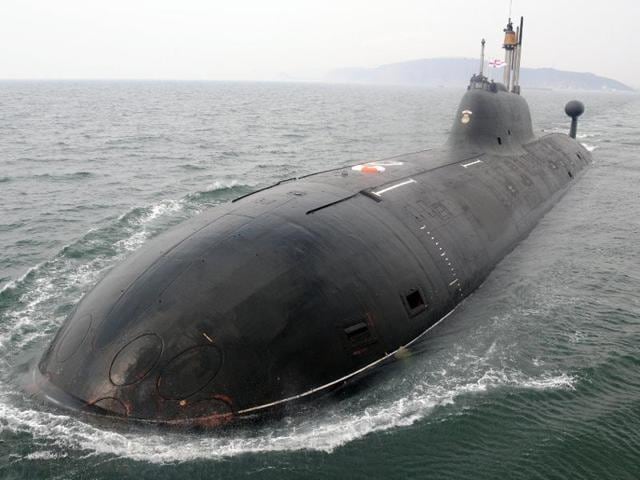 Updated on Nov 19, 2016 12:28 AM IST
The Pakistan Navy said on Friday it had "blocked" an Indian submarine from entering the country's territorial waters, though officials in New Delhi described the claim as "blatant lies".
"The Pakistan Navy once again proved its vigilance and operational competence by detecting and blocking an Indian submarine from entering in Pakistani waters," an official statement said.
"The unsuspecting submarine was detected and localised south of Pakistani coast on November 16. Thereafter, despite submarine's desperate efforts to escape detection, it was continuously tracked by Pakistan Navy fleet units and pushed well clear of our waters," the statement said.
The detection of the Indian submarine reflected the Pakistan Navy's anti-submarine warfare capabilities, it added. The navy also released footage and photographs of what it was said was the submarine trying to enter Pakistani waters.
This video was tweeted by Dunya News
In New Delhi, Indian Navy officials described the Pakistani claim as "blatant lies" and said none of its vessels were in that area.
Security analyst Admiral (retired) Tasnim Ahmad told the media the submarine had been in Pakistani waters for more than four days. He said the vessel left Pakistani waters after being detected.
Earlier this week, the Pakistan Navy announced that the first cargo containers for the China-Pakistan Economic Corridor (CPEC) were safely escorted in the Arabian Sea towards their destinations in Middle Eastern and African countries.
It said the success of the CPEC and Gwadar port project was linked to a safe and secure maritime environment in the Indian Ocean and Arabian Sea. It added that it attached high priority to the CPEC's maritime security components.
Relations between Pakistan and India have been strained for several months, while shelling and exchanges of fire have intensified along the Line of Control, leading to deaths of civilians and soldiers on both sides.
(With inputs from HTC Delhi)
Close Story