Pension liability under House panel's lens
Jan 09, 2023 05:12 AM IST
Congress-ruled Rajasthan and Chhattisgarh have announced reverting to the old pension scheme, even as the party won Himachal Pradesh in the latest round of assembly polls banking on a slew of promises, including one to go back to OPS.
Amid the political row over the old pension scheme (OPS) versus the new pension scheme (NPS), a parliamentary panel has called for discussions as reverting to the old system by only three states -- Chhattisgarh, Jharkhand and Rajasthan -- would mean a total liability of over ₹3 lakh crore, which may surpass ₹31 lakh crore if implemented nationwide.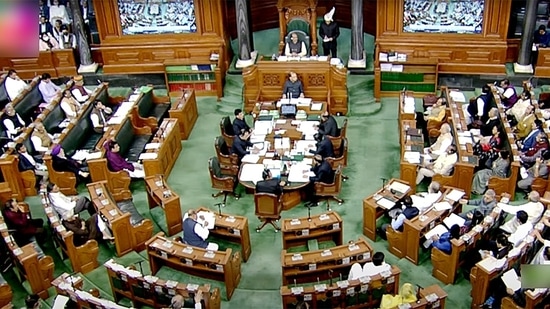 The parliamentary standing committee on finance, led by Bharatiya Janata Party lawmaker Jayant Sinha, has called a meeting this week for the first round of discussion on the issue after a number of states ruled by opposition parties have resolved to go back to the old pension scheme, which economists said would be fiscally undesirable.
"It is an important issue. We couldn't take it up earlier due to time constraints," said Sinha, a former finance minister. "But in the next two months, we will extensively discuss it and come out with a report."
At a book launch on Friday, Montek Singh Ahluwalia, who was deputy chairman of the erstwhile Planning Commission during Manmohan Singh's government, called it an "absurd" move and a "recipe for financial bankruptcy". Reacting to Ahluwalia's remark, Rajasthan chief minister Ashok Gehlot said employees are entitled to feel secure after completing around 35 years of service.
Congress-ruled Rajasthan and Chhattisgarh have announced reverting to the old pension scheme, even as the Congress won Himachal Pradesh in the latest round of assembly polls banking on a slew of promises, including one to go back to OPS. Punjab, ruled by the Aam Aadmi Party, too, has made a similar promise.
This week, experts, representatives of the National Institute of Public Finance and Policy, a government think tank, and the expenditure secretary will brief the parliamentary panel on the issue of pension liability of the Centre and the states. The Reserve Bank of India and Pension Fund Regulatory and Development Authority will brief the panel as well.
If all states shift to OPS, it would result in a pension liability of ₹31.04 lakh crore, according to the October 2022 edition of Ecowrap, a State Bank of India's research report. Reverting to the OPS by some states also seems to be a tool used by them for political purposes with huge liabilities to the public exchequer, it said. "The pension liabilities of three states, Chhattisgarh, Jharkhand and Rajasthan, is estimated at ₹3 lakh crore," the report said.
Pension has become a key part of the Centre's committed expenses and in 201919-20, 19% of the Centre's revenue expenditure of ₹26.15 lakh crore went to pensions, said a Comptroller and Auditor General of India report on state finances in 2019-20.
At the heart of the old 'pay as you go scheme', operational till 2004, lay an intergenerational disparity, analysts said. Under it, contributions from the current generation of workers were used to pay for pensions of current pensioners, making it an unfunded pension scheme because it represented a direct transfer of resources from the current generation of taxpayers to fund the pensions. It meant that the old system was fiscally ruinous, according to Soumya Kanti Ghosh, group chief economic adviser of the State Bank of India, the country's largest lender.
"Any return to the old scheme will not be fiscally viable," Ghosh said. According to Ghosh's research, pension liabilities of state governments over the long term showed a sharp increase. The compounded annual growth in pension liabilities for the 12-year period ended 2021-22 was 34% for all state governments. As of 2020-21, the pension outgo as a percentage of revenue receipts stood at 13.2%, Ghosh said.
"Some states have informed the Centre that they would like to start the old pension scheme. However, the Centre has no proposal under consideration for restoration of old pension scheme," a Union government official aware of the matter said, requesting anonymity.
While Punjab has notified shifting from NPS to OPS in November, Rajasthan, Chhattisgarh and Jharkhand have intimated the Centre that they want to restart the old system for their respective state government employees.
"Some states have asked the PFRDA to return the accumulated corpus of their respective subscribers under NPS, which is legally not possible," the official said. During the pre-budget consultations with finance minister Nirmala Sitharaman on November 25, Chhattisgarh chief minister Bhupesh Baghel reiterated the state's demand to refund the NPS amount.
The OPS is applicable for government employees recruited before January 1, 2004. It ensures a defined benefit after retirement. The benefits include 50% of the last pay drawn, or a 10-month average emolument, whichever is higher; also dearness allowance on the pension amount; revision of pension with successive Pay Commissions; additional pension after a certain age; commutation of pension family pension for dependents of several categories.
In contrast to the OPS, the NPS works on defined contributions. It has two tiers – Tier- I and II. Contribution to Tier-I is mandatory for all government servants governed by the NPS. These employees have to contribute 10% of their basic pay plus DA and the government makes a 14% contribution from April 1, 2019.
Tier-II is optional. It is at the discretion of concerned officials and does not offer matching contributions by the government. It is a voluntary savings option with flexibility of contribution and withdrawal of funds.
Topics