Plea in SC to let Tirupati temple exchange demonetised notes worth Rs 8.29 crore
Updated on Jul 23, 2017 09:13 PM IST
The Tirupati board runs a string of temples in cities and towns such as New Delhi, Rishikesh, Guwahati, Mumbai, Chennai, Hyderabad and Kanyakumari.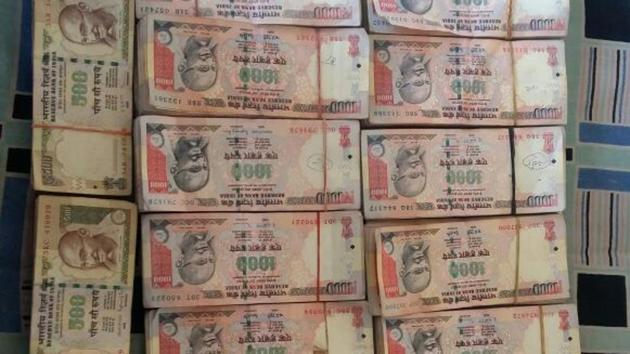 A man from Andhra Pradesh requested the Supreme Court last week to direct the government and the federal bank to let Sri Tirumala Tirupati Venkateshwara temple exchange Rs 8.29 crore of banned banknotes donated by devotees.
Visited by millions, the shrine dedicated to god Venkateshwara in Tirupati is the world's second richest with assets worth Rs 50,000 crore and an annual income of around Rs 650 crore.
It has several crores of old Rs 500- and 1,000-rupee banknotes stashed in collection boxes for donations. These have become defunct after the government recalled the two high-value notes and temple authorities missed last year's December 30 deadline to get them exchanged.
VV Ramanmurthy, a journalist, said in his petition that non-acceptance of the devotees' offering to the temple was not only discriminatory but also meant their wishes will remain unfulfilled.
"That the pilgrims and devotees offerings made to Lord Venkateshwara Swami was not accepted/redeemed by Reserve Bank of India, due to which about Rs 8.29 crore consisting of old Rs 500 and Rs 1,000 notes were packed and kept in boxes with Tirumala Tirupati Devastanam," read the petition that advocate Shravan Kumar filed on his behalf.
The Tirupati board runs a string of temples in cities and towns such as New Delhi, Rishikesh, Guwahati, Mumbai, Chennai, Hyderabad and Kanyakumari.
The petitioner said collections at temples in Chennai and Hyderabad are deposited in banks once a week, but it is done once in six months in the other places.
Ramanmurthy contended that not accepting public money for charity and services infringes the devotees' fundamental right to practice their religion.
He said the board will be unable to utilise the money for its services. Besides, possession of demonetised money is a criminal offence.
The petition follows the Supreme Court's directive on July 4 to the government and RBI to come up with a policy to offer a window to people who could not deposit their old notes for legitimate reasons before the December deadline.
Another petition with a similar plea was filed by siblings Arushi and Apurv Jain after they found Rs 60 lakh in old notes in lockers of their parents, who died in a road accident nine years ago. They appealed for a window to exchange the money.
The two were given access to the locker this March after they became adults. But the succession court in Saket gave them the permission three months after the deadline to deposit defunct notes ended.
A bench of Chief Justice JS Khehar and Justice DY Chandrachud on Friday took note of the duo's plea and asked the finance ministry to file a response within four weeks.
The government recalled 500- and 1,000-rupee notes last November, wiping out 86% of the money in circulation in a cash-driven economy.
Religious shrines reportedly received a surfeit of donations in old notes after the demonetisation exercise was announced. The Shiromani Gurdwara Parbandhak Committee (SGPC) that runs most Sikh shrines, including the Golden Temple in Amritsar, had asked its officials not to accept defunct notes after December 30.
In Jammu and Kashmir's Vaishnodevi temple, another popular Hindu pilgrimage site, donations of Rs 1.90 crore in scrapped notes were recorded after the government's demonetisation decision.
Close Story
Personalise your news feed. Follow trending topics