Questioned on Gehlot-Pilot showdown, here's what Rahul Gandhi replied
Updated on Nov 28, 2022 04:31 PM IST
In an interview to a TV channel last week, Ashok Gehlot had termed Sachin Pilot a 'gaddar' (traitor) who can never become a chief minister.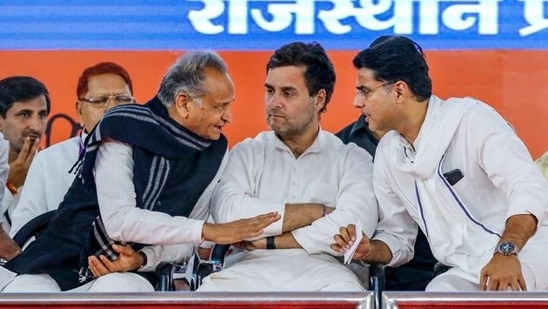 Congress MP Rahul Gandhi on Monday spoke the ongoing war between party leaders Ashok Gehlot and Sachin Pilot, calling them 'assets' of the party.

While replying to a reporter's question on the strife within Rajasthan Congress, Gandhi said, "I don't want to get into what someone said. Both the leaders are the assets of Congress. But it will not affect the ongoing Bharat Jodo Yatra". The Bharat Jodo Yatra led by Rahul Gandhi is currently in Madhya Pradesh, and will enter Rajasthan on December 3.

Gandhi reiterated the statement echoed by senior Congress leader Jairam Ramesh who said that the grand old party needed both the leaders.
"There are some differences. (Rajasthan) chief minister has used certain words which were unexpected. I was surprised. Gehlot shouldn't have used certain words in the interview," Ramesh was quoted by PTI as saying, referring to the Rajasthan chief minister's outburst at his bete noire in an interview on Thursday.

Gehlot had termed Pilot a 'gaddar' (traitor) who cannot become the chief minister, adding that the latter tried to topple the state government in 2020. "The MLAs will never accept someone who has revolted and has been dubbed as a gaddar. How can he become the chief minister? How can the MLAs accept such a person as the chief minister? I have proof that ₹10 crore each were distributed to the MLAs holed up in a Gurugram resort for toppling the Congress government in Rajasthan," Gehlot told NDTV.

Pilot had responded to the chief minister's barb, saying, "I have seen Ashok Gehlot ji's statements today aimed against me. Someone who is so experienced, senior and whom party has given so much, it is unbecoming of someone with such experience to use this language, make such completely false and baseless allegations."