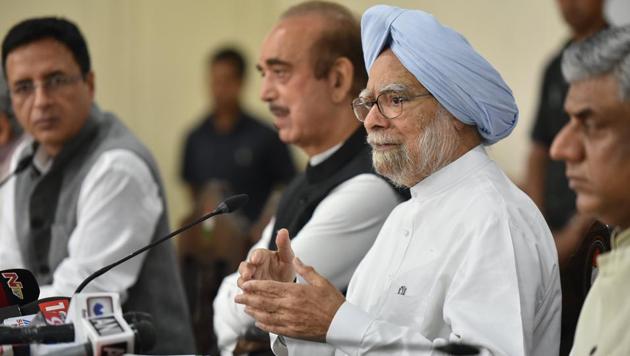 Rahul, Manmohan step up Karnataka election campaign, attack Modi govt economic polices
Congress leaders accuse the Bharatiya Janata Party government of mismanaging the economy.
UPDATED ON MAY 07, 2018 06:33 PM IST
The Narendra Modi government's "disastrous" economic policies are costing the nation its future, said Congress leader and former prime minister Manmohan Singh on Monday, coordinating his statements as party president Rahul Gandhi protested in Karnataka against high fuel prices.
"Our nation today is experiencing difficult times. Our farmers are facing an acute crisis, our aspirational youth are not finding opportunities, and the economy is growing below its potential," said Singh at a press conference in Bengaluru.
"It pains me to see how rather than standing up to all these challenges, the government's response has been to stifle dissent when deficiencies are pointed out," he was quoted by PTI as saying.
"India is a complex and diverse country and no one person can be the repository of all wisdom," he said without naming Prime Minister Modi.
Modi's National Democratic Alliance (NDA) government had recorded low growth rate despite a favourable international climate and low oil prices. "Its lack of reasoning and analysis is costing India and our collective future," said Singh. "True leadership creates opportunities, it does not destroy them."
He said every time an answer was sought for any of the "disastrous policies" of the BJP government, "all we hear is that the intentions are virtuous".
Singh said petrol and diesel prices were at a "historic high" despite a fall in international crude oil prices because the government had chosen to levy "excessive" excise duty.
Party president Gandhi said on Twitter this morning he will protest in Kolar, southern Karnataka, against the government's fuel price policy.
"Despite international crude prices dropping upto [sic] 67% in 4 years of Modi government petrol-diesel prices are skyrocketing in India but the government that promised "acche din" is silent. BJP is cruel. They loot in the name of fuel," he said.
.
Close