It's a matter of justice, not lynching: Jayant Sinha
Updated on Jul 23, 2018 10:01 AM IST
Jayant Sinha says anyone participated in lynching deserves full punishment, but the innocent should get justice.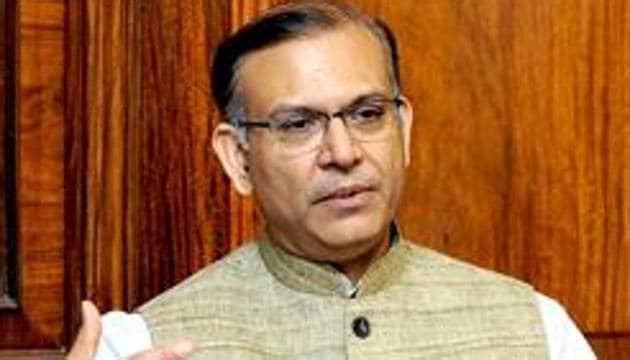 Union minister of state for civil aviation Jayant Sinha is in the middle of a storm for garlanding a group of people who had been convicted by a fast-track court in a 2017 lynching incident in Jharkhand in which a meat trader was killed. The Opposition has already raised the issue in Parliament. Sinha spoke to Prashant Jha about recent lynchings in India, and the Jharkhand case. Edited excerpts:
Rahul Gandhi spoke in Parliament about India acquiring a reputation for violence. Has there been an increase in the spate lynching incidents under the National Democratic Alliance government?
Our response to this is at three different levels. First, there are certain incidents which are happening. But when you look at it at an aggregate, statistical level, we do not have the hard data to tell us if it is has gone up or gone down. Two, at the level of the government, we have been clear and strict that all forms of mob violence have to be dealt with very sternly, the police have to get strict instructions on how to maintain law and order, there has to be swift justice when people are found to have engaged in violence, and the rule of law is supreme in our constitutional democracy. Third, those who are accusing us of this kind of violence have a very chequered past on this question. Take Bengal, Kerala, or Karnataka today; or take 1984 (anti-Sikh riots in Delhi). They themselves have encouraged this kind of mob violence. I will also add that every time elections approach, whether it was Ghar Wapsi, or vandalism of churches, there is an outrage factory – which includes bureaucrats, media, social activists – which begins spewing venom around the theme of intolerance.
Does the political ideology your party represent end up encouraging hate politics, demonising some communities, and does your presence in power embolden those inspired by this world view attack minorities?
Absolutely not. The Prime Minister, the home minister, Arun Jaitley, and senior leaders have condemned violence, vigilantism, and violations of rule of law. The PM himself has said that he has only religion – India – and one holy book – the Constitution. We have made it clear that our government represents all of India, rule of law is supreme, and because it is supreme, wherever we have found law has not been protected, we have been vigilant in ensuring rule of law.
Why did you garland those who had been convicted of lynching by the lower court?
The people who came to my house had come after a year in jail. They had been released on a bail order by the high court. They had been released because there was no evidence against them. Ergo, they were innocent. So for people to say they are lynchers and I was feting lynchers is not true. The truth is they were bystanders; they had been picked by the police; and had been sentenced by the fast-track court to life imprisonment on charges of murder, which is a very serious charge. When the same evidence was presented to the high court, it said there is no evidence. There will of course now be a full hearing. They came to my house because I had legally assisted them, and they were very relieved that they would get a fresh trial. It was a private meeting; I was not welcoming them in public. To take what happened there and interpret it as me condoning vigilantism, which I have always rejected, is the work of this outrage factory where independent of facts, to serve ideological ends and vote-bank politics, you manufacture a narrative. That is toxic.
But the bail order also said that they were members of the mob; they have not been acquitted yet. Do you think you made a mistake?
I regret garlanding them because it gave an opportunity to say I was condoning vigilantism. My intention was to ensure everyone got justice. It was for me a matter of justice, and justice alone. I did not get involved in the case, even though there was local pressure for a long time. The high court order came on June 29; they came to my house on July 4th. I spoke on this case for the first time on April 7th, 2018. The fast-track court sentences were handed down on March 21st. I did not participate in the case when it was under trial. I said, let the judicial process do what it has to do. After the sentence was pronounced, it was obvious for some people that it was a matter of justice, not of lynching. Anyone who participated in lynching – and there is evidence that some people participated in violence against the victim – deserves the full punishment. But the innocent should get justice. And it is my duty as the MP that everyone gets justice. They have constitutional rights too.
Here is the accusation against you: The group of people convicted by the fast-track court, now on bail, are Hindus. The victim is a Muslim. Your party believes in Hindu consolidation. And you were practising this version of vote-bank politics on the ground.
This is wrong. Many Muslims have come to me, to my home, and asked me to help them get justice, and I have helped them. If Mariam Khatoon (the widow of the victim) had come to me and said, help me, I would have helped her too. I don't practice that kind of politics and I don't need to. Like the rest of the government, in Hazaribagh too, I practice the politics of performance and development.
Khatoon did not come to you. But her husband had died. Did you go to her?
I did not go either the accused or victim in this case.
Does Khatoon deserve justice?
Of course, she deserves justice. The guilty should be punished. To help Khatoon, in my first statement, I had said we need a CBI (Central Bureau of investigation) probe on this matter because police is in the dock. Only an independent enquiry would be able to provide justice to Alimuddin Ansari, Khatoon, those who assaulted the victim, and those who were bystanders.
Close Story
Personalise your news feed. Follow trending topics