Jayant Sinha garlands Ramgarh lynching convicts, says 'honouring law'
Jul 07, 2018 11:48 PM IST
The Union minister said that while he did not approve of vigilante violence, he had misgivings about the manner in which the accused in the case were convicted by the fast track court.
Union minister Jayant Sinha on Saturday justified felicitating seven convicted cow vigilantes at his residence on the outskirts of Hazaribag, stating that he was merely 'honouring the due process of law' by doing so.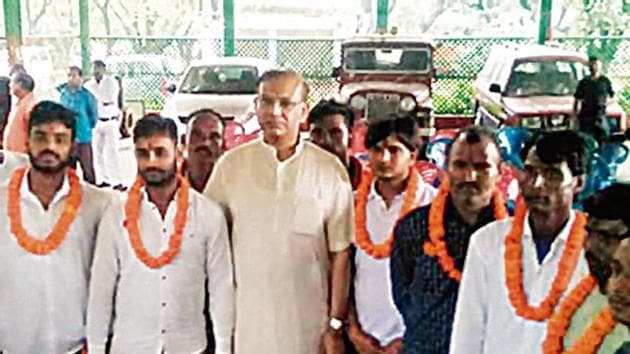 The Hazaribag MP clarified his position saying that the high court has suspended the sentence of the accused and released them on bail while admitting their case. The case will once again be re-heard.
"I have repeatedly expressed my misgivings about the fast-track court's judgement sentencing each accused to life imprisonment. I am pleased that the honourable high court will hear the matter as a statutory court of appeal to test the correctness of the fast-track court order," said Sinha in a series of tweets.
He added, "I have full faith in our judicial system and the rule of law. Unfortunately, irresponsible statements are being made about my actions when all that I am doing is honouring the due process of law. Those that are innocent will be spared and the guilty will be appropriately punished."
Questioning police investigation, Sinha had earlier demanded CBI probe into the matter and also extended financial assistance to the accused to pursue their legal wrangle.
Sinha had on Thursday welcomed the seven cow vigilantes, convicted for lynching a Muslim meat trader in Ramgarh. After their release from jail, the convicts went to Sinha's residence to meet him. The move invoked criticism from the opposition parties.
Yashwant Sinha does not approve
The former BJP leader said he did not approve of his son's action.
"Earlier I was the nalayak baap (unworthy father) of a layak beta (worthy son). Now the roles are reversed. This is twitter. I do not approve of my son's action. But I know even this will lead to further abuse. You can never win," Yashwant Sinha tweeted.
(With agency inputs)